First Hydrogen confirms its hydrogen-fuel-cell-powered light commercial vehicles (LCV) are performing even better than predicted.
In the first phase of commissioning, the Company's LCVs accumulated 6,000km on UK roads, including mileage around London's M25 motorway.
Evaluation is continuing during operational trials, which have commenced with fleet management provider, Rivus. This is the first of a series of operator trials that will continue for the rest of the year with other blue-chip UK-based fleets. Mileage accumulation is enabling First Hydrogen to gather performance data, including information on fuel consumption, to validate different vehicle operating parameters.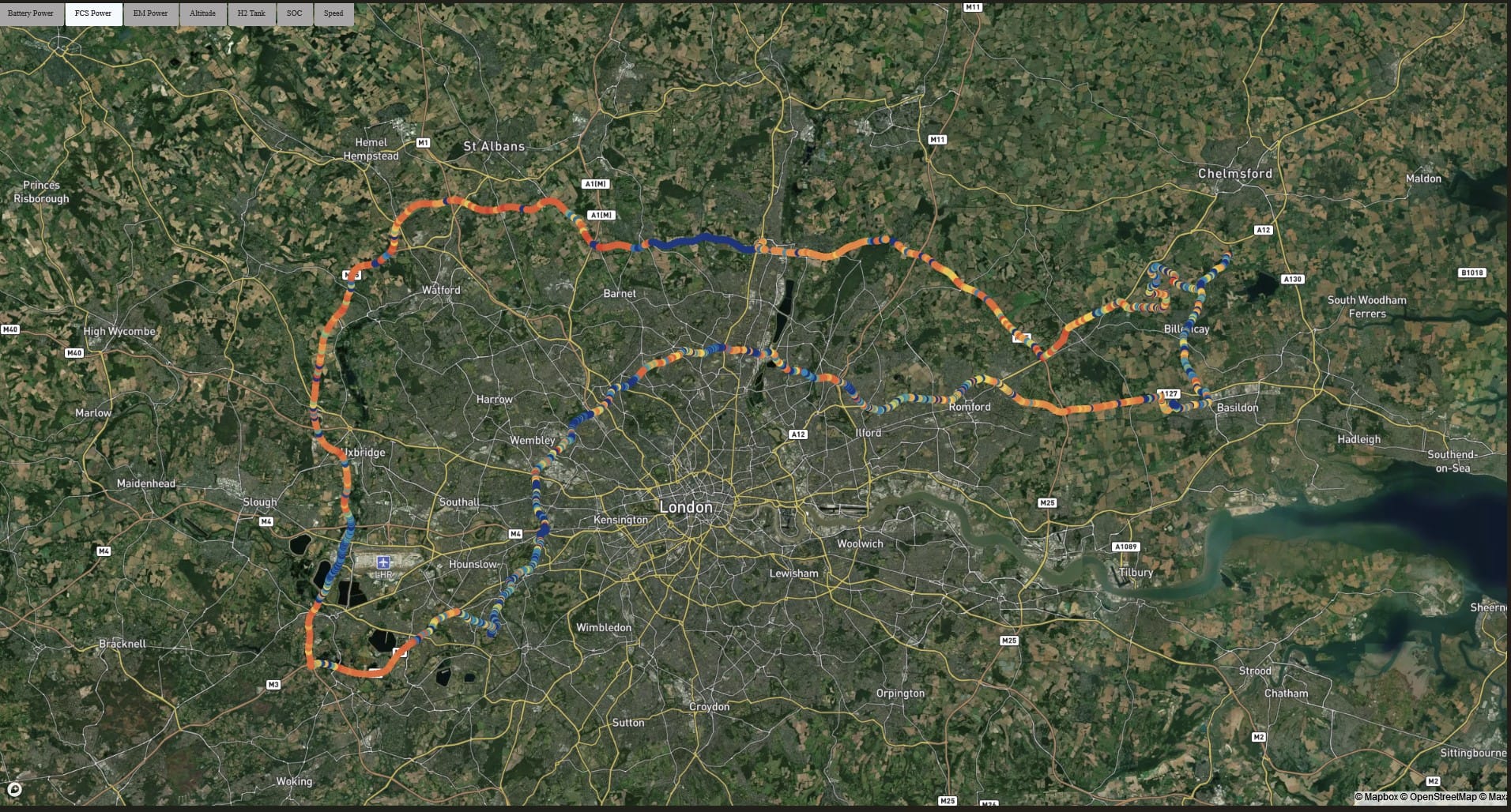 First Hydrogen's vehicle route around London and the South East of England
The data logging supports vehicle range simulations, which exceed a 500km range. The vehicle is currently performing with excellent efficiency, including both urban, extra urban (which includes driving at higher speeds) and highway operations. First Hydrogen's FCV fuel consumption figures seen in many driving scenarios are under 2kg/100km, and in mostly urban driving this is 1.5Kg/100km.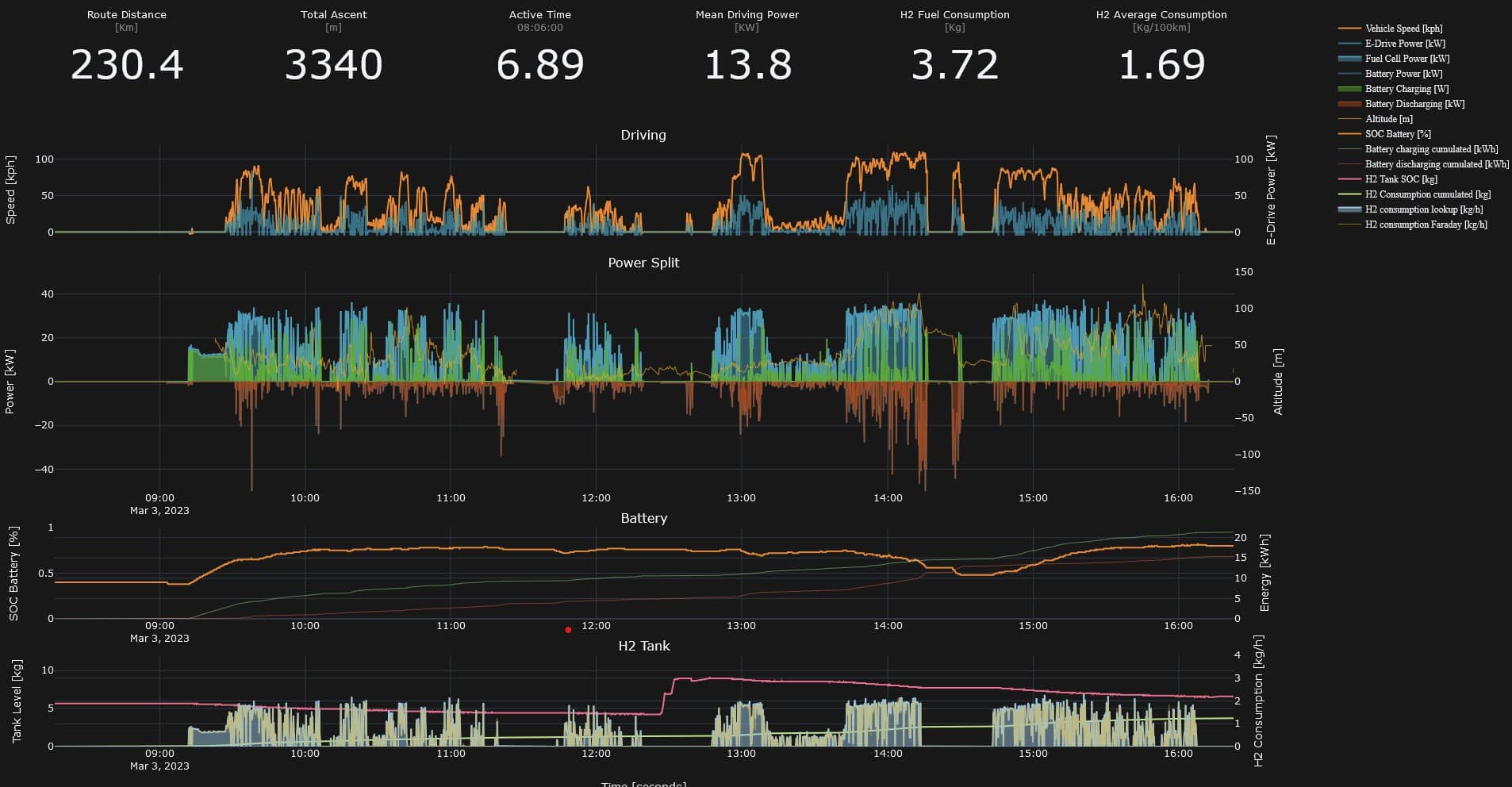 First Hydrogen's vehicle performance during journey around London and the South East of England
First Hydrogen's LCV demonstrates how hydrogen fuel can provide fleet managers with zero-emission vehicles that deliver the range, payloads, and fast refuelling times they require. The initial road tests confirm that the hydrogen powertrain, which has a maximum power of 100kW, is powering the vehicle to continuously run on UK public roads at the maximum speed limit.
Onboard telematics and a GPS tracker upload vehicle data to the cloud, providing First Hydrogen's engineers with close to real-time analysis, enabling them to monitor vehicle performance, prevent potential issues and ensure it is secure.
These instruments will remain onboard throughout the commissioning process, which includes the programme of operational trials established with members of the UK Aggregated Hydrogen Freight Association (AHFC) including Rivus. The trials provide fleet operators with the opportunity to evaluate fuel cell electric vehicles (FCEV) alongside their own fleets in real-world operations.
Rivus' drivers are testing the vehicle's performance with different payloads around roads in Birmingham, the West Midlands, and South Yorkshire.
The trials will also draw direct comparisons between battery electric and diesel or petrol-powered vehicles. Safety and security features installed in the vehicle enable First Hydrogen's team to monitor its location and ensure the vehicle can be maintained when required. There is also reporting technology on board, so drivers and fleet managers can keep track of refuelling frequency and record any damage or road incidents that may occur, providing added reassurance to fleet operators and drivers during the trials.
Steve Gill, CEO of First Hydrogen Automotive, says: "We're thrilled that initial road testing has shown that the vehicle is not only meeting performance requirements but exceeding the early expectations we set for real world driving. The efficient fuel consumption means that our vehicle can go further on a single tank of fuel. This will save drivers time with fewer refuelling stops and lower running costs, reducing Total Cost of Ownership, which will make our LCVs more attractive to fleet operators and potential customers."