Bitcoin prices continue to fluctuate around the $35,000 level, with the markets anticipating a new round of volatility.
Data from cryptocurrency exchanges indicates a sharp increase in open interest (OI) in the Bitcoin markets, which many cryptocurrency investors see as a sign of a new round of violent price fluctuations.
The number of Bitcoin wallet addresses holding over $1,000 worth of Bitcoin has reached a new high, signaling increased demand among retail traders. Additionally, technical indicators suggest a strong upward trend in the price of Bitcoin.
Macroeconomic factors such as the decision of the U.S. Federal Reserve to keep interest rates unchanged and a decline in non-farm payroll data for October are among the major drivers of Bitcoin's rise.
Currently, there are a total of 8 million addresses holding more than $1,000 worth of Bitcoin, supporting the hypothesis of increased demand for the asset among investors and retail traders, as shown in the chart below.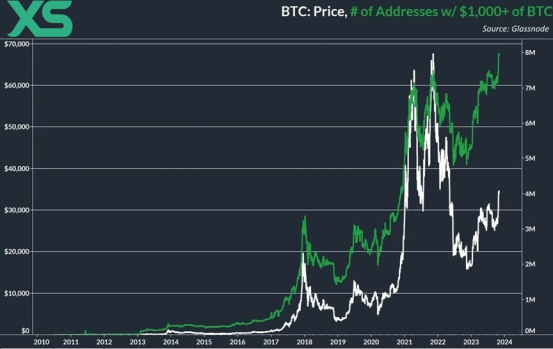 I also believe that the rise in Bitcoin mining stocks last Thursday, where the price of Bitcoin reached its highest level in 17 months, supports the hypothesis of a medium and short-term upward trend in Bitcoin's price.
From my perspective, I would say that other catalysts that could support the upward trend in Bitcoin prices are the weak job data for October.
However, the current Bitcoin price has entered the overbought territory, as indicated by the one-week Relative Strength Index (RSI) chart, and this is happening for the first time since February 2021. This suggests a short-term correction followed by a strong upward movement in the medium and long term.
During this week, some U.S. data will be released, with the U.S. dollar showing slight weakness due to investor optimism about the end of the Federal Reserve's interest rate hike cycle. If the dollar remains weak, it could also support the rise of Bitcoin as a reaction to dollar-denominated markets.
I believe it is crucial to pay close attention to any new announcements regarding a Spot Bitcoin ETF by the Securities and Exchange Commission, as this could be the strongest driver to break Bitcoin out of its recent quiet period.