Oil prices shrugged off demand concerns in China and surged to their highest level in three months during yesterday's trading. At the beginning of today's Thursday session, they settled at $83.76 per barrel.
The supply shortage, caused by Saudi and Russian production cuts, impacted market sentiment. Crude oil increased by over 2%, with Brent crude touching its highest price since April at $87.17 per barrel.
This surge compensated for worries about China's demand slowdown and the results of yesterday's US oil inventory report, which showed an inventory increase.
Crude oil faced negative pressure yesterday due to Chinese data revealing an 18.8% drop in crude oil imports in July compared to the previous month, reaching the lowest daily rate since January. Nevertheless, Brent crude rose by around 1.2% to $87.24, its highest price since last April. Additionally, crude oil increased by about 1% to $84.11, its highest price since November 2022.
One of the main factors driving oil price increases was Saudi Arabia's extension of its voluntary production cut for an additional month, maintaining a reduction of one million barrels per day until the end of September. Russia also announced a 300,000 barrels per day reduction in oil exports for September, further supporting the supply shortage and crude oil price hikes.
The Saudi Cabinet confirmed its support for the precautionary measures taken by OPEC+ to achieve market stability, as reported by Saudi government media. Hence, this recovery in crude oil markets is largely propelled by Saudi Arabia's and Russia's decisions to keep supplies low for an additional month.
On another note, US crude oil production is expected to increase by 850,000 barrels per day to reach 12.76 million barrels per day in 2023, according to the monthly report from the Energy Information Administration (EIA). The report also forecasts a crude oil production increase of 330,000 to 13.09 million barrels per day in 2024.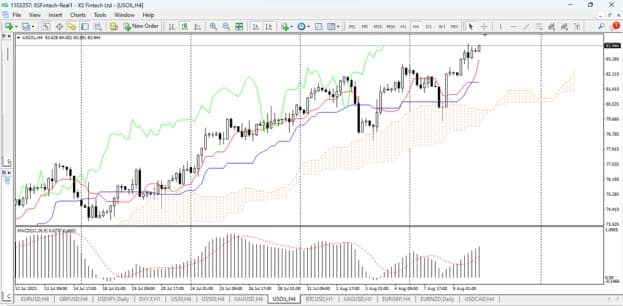 Source: The four-hour timeframe chart for crude oil prices – MetaTrader 4 platform by XS.com
In the above chart, we can see that crude oil prices are trading within a resistance zone between $83.43 and $84.16 per barrel. The MACD indicator also suggests that prices are moving in a moderate upward trend, possibly targeting levels of $84.67 and 85.58 dollars consecutively. At the same time, prices are approaching the upper limit of the Bollinger Bands indicator, creating mixed technical signals between upward and downward movements, especially as the price nears the buying peak.
From another perspective, a breakthrough below the 82.33-dollar zone could lead to a shift in prices towards a medium to long-term downward trend. The subsequent targets would be $80.00, $78.50, and 76.64 dollars respectively, which are strong support areas for the oil price.