Former chief whip Andrew Mitchell is selling the bicycle he was riding during the "plebgate" fiasco on eBay.co.uk – and it could be yours right now for just £1,120.
Mitchell is selling the bike on eBay to raise funds for Nyumbani, a charity that supports HIV and AIDS-affected children in Kenya. The former International Development Secretary describes the bike thus: "A sturdy bike with blue frame, this men's Reflex Westminster has been a regular commuter to and from the House of Commons over the years with numerous journeys to the Department for International Development & Number 10 Downing Street."
Mitchell was trying to leave Downing Street via the main gate in September while atop the seven-year-old bike, when it was claimed he called police officers "plebs" when they refused to let him pass.
Mitchell denies the allegations he called officers "plebs", but was forced to resign after the plebgate scandal erupted. Scotland Yard are still investigating the incident, following a Channel 4 News investigation that raised doubts about the validity of the claims.
Bidding for the bike closes on Thursday – it has so far received 11 bids.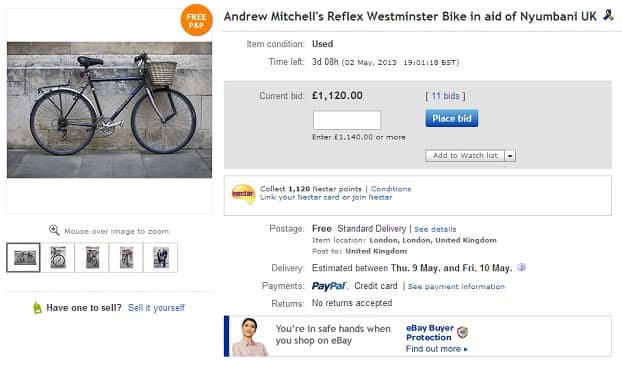 You need to read:
Our free newsletter
"Osborne is manipulating the Bank of England and OBR's independence" – Tory MP Mark Field