Kent was hit by a 4.3 magnitude earthquake yesterday that shook buildings.
Luckily, it caused no injuries or damage to buildings.
Residents took to Twitter to report incidents of shaking floors and rattling windows.
@BBCBreaking we Have had a Earthquake in Deal Kent. The whole house shook setting of car alarms and roof slates falling off the roof

— John Sheridan (@kentlad1) May 22, 2015
So just experienced an earthquake (mild but scary) in Kent. Kent! England! So weird, totally freaked out.

— Rich Nairn (@richnairn) May 22, 2015
Either a giant just bounced on my roof, or I just felt a little earthquake. #kent

— Jake West (@UKJakeWest) May 22, 2015
Just been woken up by an earthquake in Teynham, Kent! The whole house seemed to shake and heard a loud bang.

— The Teynham Tortoise (@Mark_HJGrainger) May 22, 2015
So it was an #earthquakeafter all. In Kent, of all places. My bed shook. Thought I was in The Exorcist. I blame the government.

— Jagd Slarek (@jagd_slarek) May 22, 2015
Last night i told my mum i felt everything wobbling and she said "oh it was probably just a lorry passing" nope earthquake

— Jasmine Mariaa (@jasminemariaxx) May 22, 2015
#KentEarthquakeWe will rebuild❤️ pic.twitter.com/aAgULOYpoU

— Nick Butcher (@nickbutcher88) May 22, 2015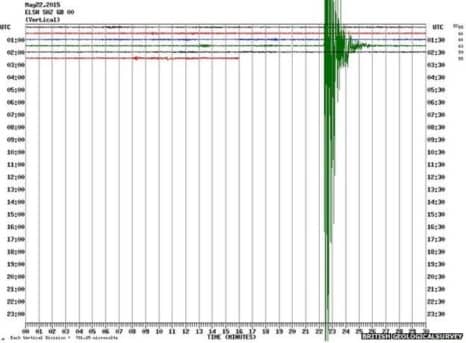 Kent Police received many calls to report the incident.
A spokesman said: "It has now been confirmed parts of east Kent has been affected by an earthquake measuring just 4.3 on the Richter scale (British Geological Survey).
"Police began receiving reports of the earthquake tremor in the east Kent area at around 2.57am. Police and the fire and rescue service had no reports of structural damage or injuries. We will continue to liaise with our partner agencies to ensure we are providing help and support in any areas needed."
Now read: