Have you had a drink at this place?
Camm & Hooper, London's leading event and hospitality group have opened its fifth venue.
Six Storeys which is placed on London's Soho Square has quickly become a favourite since it opened in early January.
The six floors are full of exquisite interior design and you're bound to find food full of flavour at this venue.
The most exciting thing that Six Storeys has to offer is its unique house gin, rum and vodka cocktails. Each drink has been created by the chief booze engineer Patrick Hobbs.
Six Storeys once only has five different infusions but with Hobbs' help there is now 21 varieties on offer, not only this but new concoctions are being added all the time!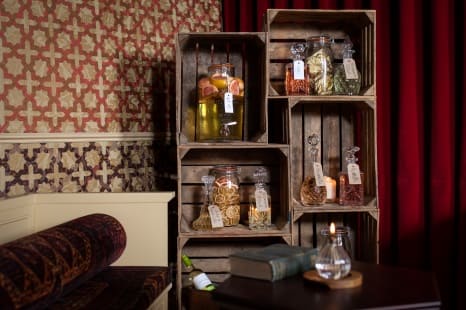 Source: Six Storeys
Its early successes were found with the Plum Gin Bath #11, a Burnt Toffee Scotch Old Fashioned and a Rose and Cocoa Infused Vodka.
Although the most recent additions include the Venison & Truffle gin, Meadow gin infused with hay and not fogetting the flavour of Quince and blue cheese.
The latest creation goes under the name of Shampagne and the flavours that come with it express tasting notes of champagne, buttery brioche and biscuits.
Six Storeys is definitely the place to be if you're looking for the most unique experience, the venue can cater to all!