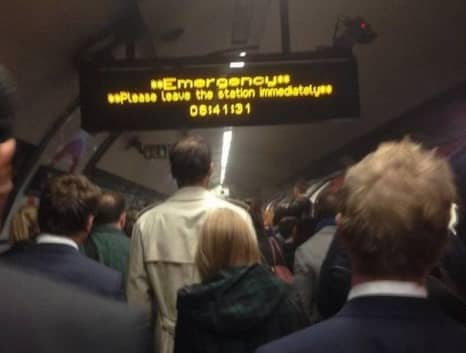 Source: Griff Smith
Oval Station was evacuated this morning after smoke billowed out of the northbound tunnel.
A fire alarm was set off after passengers spotted smoke and dust coming from the tunnel. However, no flames were reportedly seen.
Commuters were told to leave the station as soon as possible at around 8.30am.
Londoners took to Twitter to report the incident.
Oval Station is on fire apparently. #northernlinepic.twitter.com/GzAoa0uATI

— Griff Smith (@GriffSm1th) November 3, 2014
@TfLOfficial@TfLWaystoPay made to walk from Oval 2 Kennington as station was evacuated. Told at Angel that I can't be refunded 4 2nd fare??

— James Middleton (@jamie_south) November 3, 2014
Fire at Oval Station. Stuck on the train in the platform as people ran past complaining of smoke. #Monday

— Mel Spencer (@melspencer) November 3, 2014
A Transport for London spokesman said the station was reopened within 15 minutes.
Now read: