Paris
The radicalised gunman in today's double attack sent a chilling text message to his family after shooting a female police officer in the face. 
The dead gunman has now been named as Ziyad B.  BFM TV had said he texted his family saying: "I shot the police."
His father and brother have both been arrested pending further enquires.  Ziyad B is thought to have been radicalised whilst in prison. He had a string of convictions for theft and violent robberies.
French officials have said a man who tried to take a soldier's gun at Orly airport in Paris was shot dead by two other soldiers.  The soldiers are part of Operation Sentinelle which was launched after the Charlie Hebdo terror attacks in 2015.
Emmanuel Macron, Presidential candidate praised the soldiers at the airport saying they "have demonstrated one more time calm control and professionalism".
French Interior Minister, Bruno Le roux said today: "At 8.30am a man tried to attack a Sentinelle patrol in Orly in order to take the weapon of one of the female military. He didn't succeed and he was neutralised."
A witness called Dominque said to BFM Television that the attacker held the soldier by the throat and held her arm and her weapon.
"We saw it was a serious situation so we escaped,"
"We went down the stairs and right after we heard two gunshots."
Youssef Mouhajra a taxi driver who was picking up passengers when he heard shots, which he said he first thought was just warning shots.
"We have become accustomed to this kind of warning and to having the soldiers there." He added, that he then saw people rushing out of the airport terminal.
"I told the passengers, 'let's get out of here'," he said. As he drove away, he saw soldiers and police rushing towards the airport terminal.
The incident took place in the southern terminal of the airport where he was killed in a shop.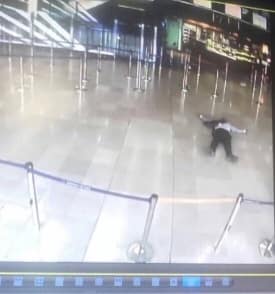 Source: @twitter
The airport has now been evacuated and shut down, passengers are not even allowed to disembark from their flights.
The massive security operation that place by bomb disposal experts across the airport revealed no explosives.  
These two attacks have now been linked and that gunman was also responsible for shooting a police officer at 07:00 local time, in north Paris before fleeing. He had hijacked a woman's car which was later found near at Orly airport.   
Witnesses had described the scene and told the AFP news agency that the airport was evacuated soon after the shooting.
Frank Lecam said: "We had queued up to check in for the Tel Aviv flight when we heard three or four shots nearby."
"There are policemen, emergency workers and soldiers everywhere in all directions. A security official told us that it happened near gates 37-38 where Turkish Airlines flights were scheduled."
Duke and Duchess of Cambridge are on their second day of their Royal visit in Paris.  Today they are expected to watch today's Six Nations rugby match at Stade de France. They are also to meet the Bataclan terrorist attack survivors that took place in 2015.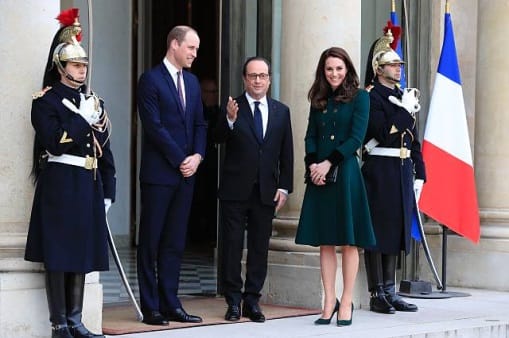 Source: @Photoshot
Diplomats have said that today's terror attack will not stop the Royals visit and they will continue with their tour of Paris.
Security at the Stade de France is thought to be stepped up for today's Six Nations rugby match.
Orly airport is expected to be closed until this evening with all flights being diverted to Charles de Gaulle Airport.