Here is what happened
A heroic British Transport Police officer (BTP) last night took on the terrorist's and was subsequently stabbed in the face, head and leg and was armed with just a baton.
Armed with a baton, our brave officer faced the London Bridge attackers.

We're extremely proud of him and every single emergency responder. https://t.co/rwUj2EqFGk

— BTP (@BTP) June 4, 2017
Another heroic police officer, who is a rugby player, was off duty and reportedly took on three of the terrorists with just his bare hands.
Brave armed police were at the scene and shot dead all three terrorists within just eight minutes from the first emergency call made, most certainly saving many more innocent lives.
BTP's chief constable, Paul Crowther said on Sunday: "Having visited the officer in hospital shortly after he was admitted for treatment, I was able to hear his account of what happened last night."
Source: Wayne Armstrong/@LondonLovesBiz
"It became clear that he showed enormous courage in the face of danger, as did many others who were at the scene and rushed to help."
"Although he is seriously unwell, he was able to recount how he faced the attackers armed only with his baton, outside London Bridge station."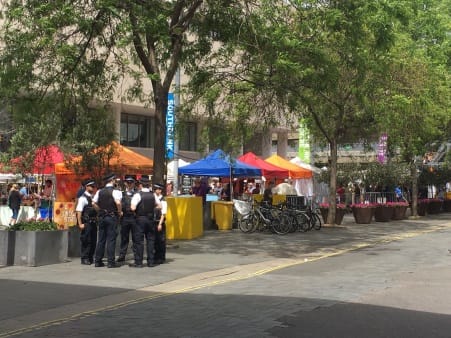 Source: Wayne Armstrong/@LondonLovesBiz
Crowther added: "For an officer who only joined us less than two years ago, the bravery he showed was outstanding and makes me extremely proud.
"All of us at BTP wish him a swift recovery, and I know he will be touched by the hundreds of messages of support from across the UK and the world.
"Our thoughts are with all of those who died or were injured, and their loved ones as they try to come to terms with what happened."