Calling all chicken lovers…
Like all things chicken? This might just be the place for you… Fancy Funkin Chicken is situated on Coldharbour Lane in Brixton, it's a chicken shop and a bar.
Fancy Funkin Chicken is a new concept from a dynamic trio of young hospitality industry insiders, Nathan Pattie (formerly PIX), Rollo Weeks (formerly Sketch) and Lars Larson (formerly Cuckoo).
The menu features tradional herb and spiced free-range fried chicken, you can get your hands-on dishes such as Funkin Hot Wings, Funkin Funkin Hot Wings and I Can't Feel My Funkin Face Hot Wings.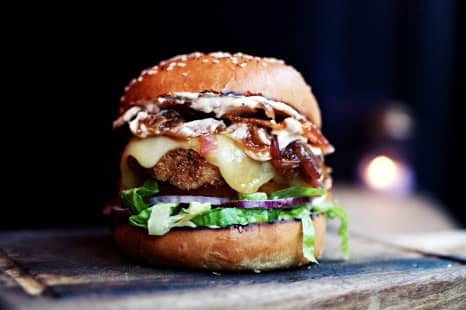 Source: Fancy Funkin Chicken
There's even a selection of fried or flame grilled chicken breast, or you can even try the Tropical Burger, this is served with charred pineapple and smoked chilli mayo.
There's a wealth of sides to choose from at this venue such as the chilli cheese fries, mac n' cheese, waffles and corn fritters.
To drink you have the option of craft beers, wine and cocktails.
The dining area brings residential warmth, using raw materials such as oak and artfully rusted steel. Hand-crafted orange neon lighting illuminates the building, the venue even features brickwork adorned with graffiti artwork, chicken shaped wall lights also make a statement in this quirky restaurant.
You can also enjoy jazz and funk with DJs playing from Thursday through to Sunday.