Here's what happened
Restaurant workers and builders armed with shovels chase off armed scooter gang thieves with sledgehammers, Tuesday evening.
The armed gang targeted Mappin & Webb on Regent Street where the gang attempted a smash and grab.
Naz Prince, a construction worker said: There were five or six on scooters, they had three sledgehammers and three axes, they were trying to smash the window.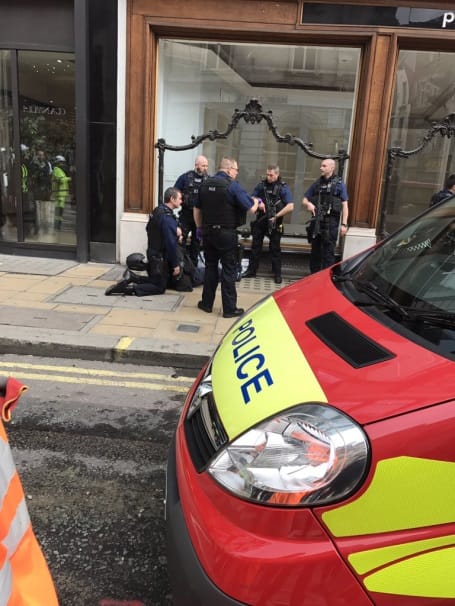 Source: Matt Davey
"As we were struggling they said 'stay back, we will cut you'. But workers with me got their shovels and tools and ran after them.
"One of our boys tied one up with cable ties and the others got on their bikes."
The head of security at Watchfinder & Co, James Strouts said: "Our doors did not open.  
"Staff are fine and so are the customers in the shop. It's material damage to the glass.
"I am grateful to local people for helping. It shows that people won't stand for this.
"Hopefully it puts a dent in one of the groups terrorising London and the UK."
These dramatic photos posted on Twitter shows the builders and other members of the public holding one of the suspects until armed police come and arrest the man.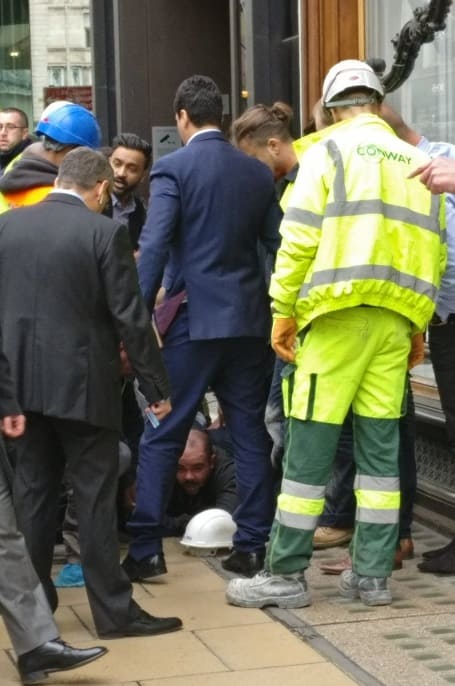 A Met Police spokesman said: "Police in Westminster were called at around 11.13am on Tuesday October 10 following reports of a smash and grab raid at a watch store in Avery Row.
Source: @JewellersMarket
"At this early stage officers believe there were five suspects riding three mopeds, armed with a sledgehammer. All had helmets and balaclavas on.
"The men were seen to make an attempt to break the glass frontage of the shop but failed to do so.
"As they fled the scene, one of the men fell off his moped and was detained by a member of the public for a short time until officers arrived at the location.
"This man was arrested and taken to a central London police station where he currently remains in custody. The moped he was riding on was seized by police.
"There have been no reports of any injuries."