Where's yours?
Research has looked into the most popular holiday locations, as favoured by the UK public
Barcelona tops the list as the UK's most favoured holiday destination, new research has revealed, with a massive 522,800 searches per month, research has revealed.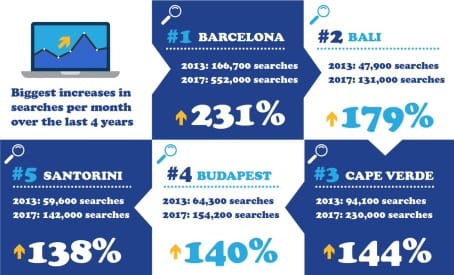 Source: Bolsover Cruise Club
Barcelona has seen the biggest rise in popularity since 2013
Growing trend in interest for European cities, with locations such as Reykjavik, Budapest, and Dubrovnik all becoming attractive locations to the public
Interest for Magaluf and Amsterdam have fluctuated over the past four years
Long-haul destinations, including Bali and Cape Verde, are also on the rise
This was closely followed by long-haul destinations Bali and Cape Verde, which are becoming increasingly popular amongst the UK public.
Conducted by UK cruise agent Bolsover Cruise Club, the research analysed over 50 locations around the world. Focusing on which holiday destinations the UK public were searching for, the study looked into which locations have been increasing and decreasing in popularity over the past four years.
It showed that UK travel enthusiasts might be searching for something a little different now than in previous years, with the search volumes of various destinations increasing drastically.
The top 5 destinations that saw the biggest increase in Google searches between 2013-2017 were:
1.                  Barcelona: 166,000- 552,000 (231 per cent increase)
2.                  Bali: 47,900 – 131,000 (179 per cent increase)
3.                  Cape Verde: 94,100-230,000 (144 per cent increase)
4.                  Budapest: 64,300-154,200 (140 per cent increase)
5.                  Santorini: 59,600- 142,000 (138 per cent increase)
The research was also broken down to highlight the favourites from five major UK cities, and revealed the following:
Manchester- 1st Barcelona, 2nd Amsterdam, 3rd Santorini
Leeds- 1st Barcelona, 2nd Budapest, 3rd Malta
Birmingham- 1st Barcelona, 2nd Amsterdam, 3rd Lanzarote
London- 1st Barcelona, 2nd Bali, 3rd Budapest
Cardiff- 1st Barcelona, 2nd Amsterdam, 3rd Cape Verde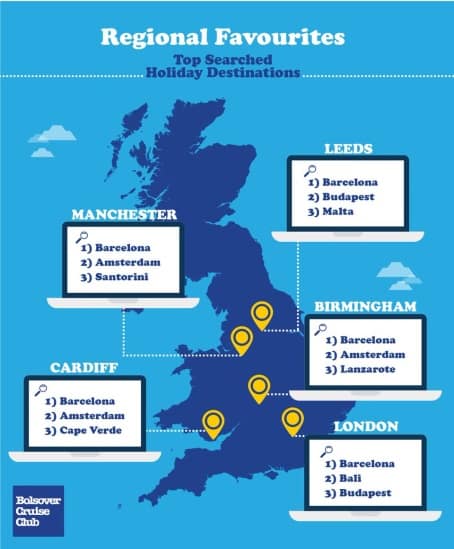 Source: Bolsover Cruise Club
The full findings of the research can be found here.
On the other end of the scale, once popular winter get-away location Amsterdam appeared to take a hit, with a 15 per cent decline over the years – this was the biggest decrease out of all the destinations that were examined.
This was followed by another previous favourite for the UK party-goer, with the Spanish resort Magaluf appearing to be a quieter clubbing scene than in previous years, with a 4 per cent dip since 2013.
However, central and eastern European cities appeared to be on the radar of Brits up and down the country, with the following locations all seeing substantial rises over the past four years:
Budapest (140 per cent)
Reykjavik (106 per cent)
Dubrovnik (49 per cent)
While Barcelona has remained in the top spot since 2013, the research has shown where the different peaks have been for other destinations:
In 2013, Malta had a high average monthly search volume (92,200)
During 2014, it was the Maldives taking peoples fancy, with an average of 93,800 monthly searches
2015 was the year that saw Dubai rise in online interest, averaging 175,300 searches per month
One thing that is apparent, when comparing the beach locations against the city locations it's most definitely the lure of clear blue sea and white sand which is proving to be the people's choice.
Michael Wilson, managing director of Bolsover Cruise Club, said: "At Bolsover, we were keen to get an insight into where the UK public are wanting to travel to. We're often aware of travel trends amongst our friends and family, but we wanted to see how these look on a larger scale.
"It appears that some of the UK's typical getaway jaunts have paved the way for these vibrant cities with glorious beaches to match, signifying that some of the UK's favourites might not be as appealing as they once were.
"Not only did we want to see which locations rose over the years, but also which destinations did the opposite and started declining. We didn't expect Barcelona to receive as many searches per month as it did, but it's clear that with its beach close to the city centre people are wanting the best of both worlds.
"The research reflects the changing trends for UK travellers and proves that people are always looking for new places to visit. It is interesting to think that a go-to destination one year could be a ghost town the next".