The latest…
Spanish police are on the hunt of the van driver who killed 13 people and injured more than 100 after the deadly terror attack in Barcelona, Thursday afternoon.
Spanish authorities have arrested two people across the Catalan city, Josep Lluis Trapero, a senior police official said despite holding these suspects "that doesn't mean that either were the author of the attack."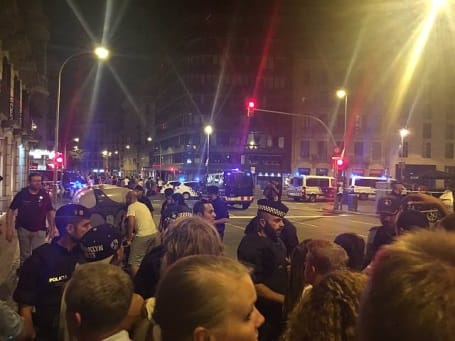 Source: @Photoshot
The suspects are believed to be Moroccan and from the town of Melilla, they were arrested in Alcanar and Ripoll, which is in the Tarragona province, between Barcelona and Valencia.
Spanish security services have found another van that is connected to the attack in a town called Vic.
Hours after the first deadly attack in Las Ramblas another attack was unfolding where  Catalan police intervened and shot dead five terror suspects, who had jumped out of the car armed with knives and wearing fake suicide bomb vests.
In #Cambrilspolice operation underway possibly linked to the attack in #Barcelona. Ppl told to get off the streets. pic.twitter.com/D6JXfAb1jQ

— Kevin Rincon (@KevRincon) August 17, 2017