Ukraine's state nuclear energy company Energoatom has warned that the Zaporizhzhia nuclear power plant has been "disconnected" from the power grid.
There are real fears of a European nuclear catastrophe after all six reactors at the facility have for "the first time ever" have been disconnected.
Following shelling this triggered a fire in the ash dumps near to the main station at the nuclear facility.
Ukrainians who live in the surrounding town were told at 2:30pm on Thursday not to take radiation medication at the moment as currently there is no need to take potassium iodide which absorbs radiation in the body.
Read more on Russia-Ukraine war:
Following blackouts across the Russian occupied Zaporizhzhia and Kherson regions, Russian media has reported that safety systems were activated which are to prevent the leakage of radioactive materials.
In a statement on Telegram, the company said, "the actions of" the Russians has triggered a fire in ash dumps near the main station at the nuclear power plant.
This then "caused a complete disconnection of the ZNPP [Zaporizhzhia nuclear power plant] from the power grid – for the first time in the history of the plant."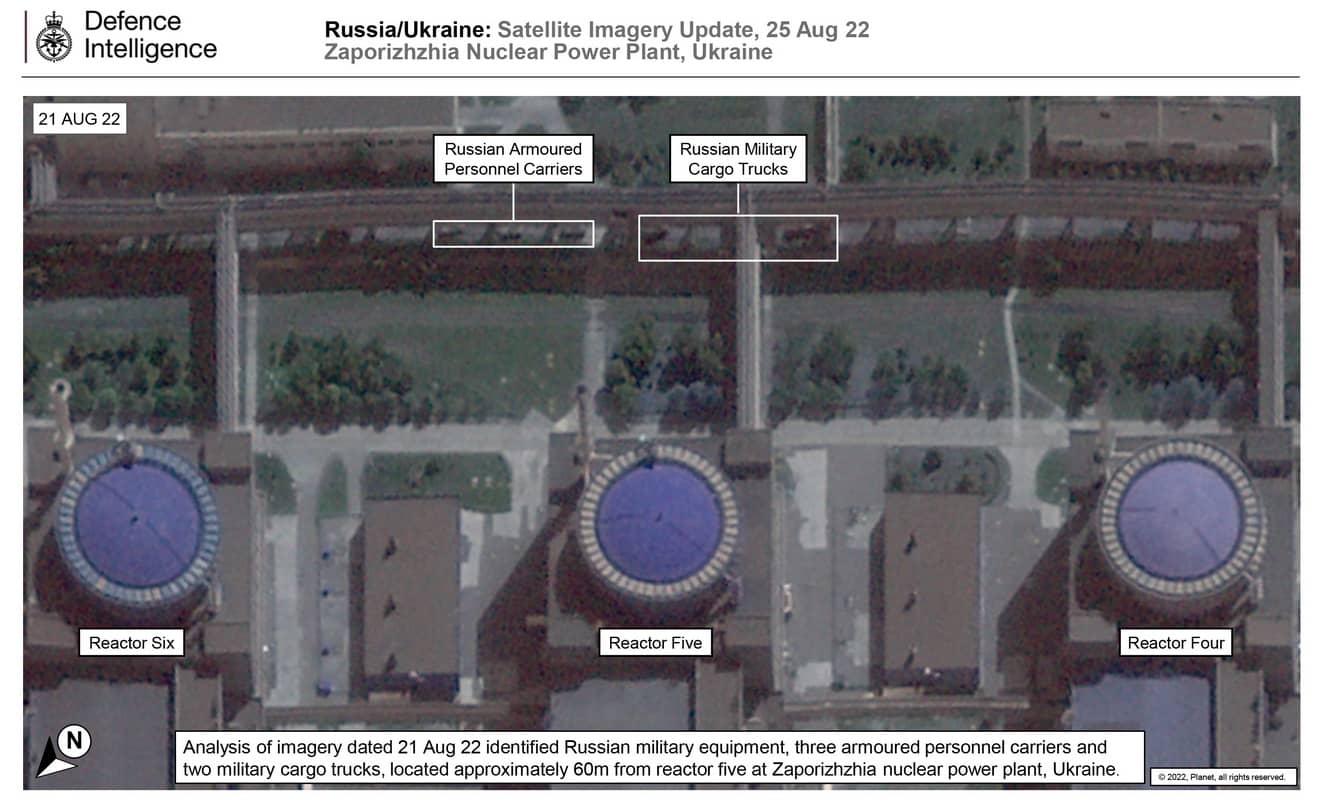 It added, "There are currently no comments on the operation of automation and safety systems.
"Start-up operations are underway to connect one of the power units to the grid."
⚠️ Confirmed: Metrics show a major disruption to communications at #Zaporizhzhya nuclear power plant, #Ukraine, amid Russian hostilities.

The NPP has been completely disconnected from the grid for the first time in history per Energoatom.

📰 Background: https://t.co/2L7yAznx6a pic.twitter.com/d7AGIc3Hf3

— NetBlocks (@netblocks) August 25, 2022
Energoatom said in a statement, "As a result, the station's two working power units were disconnected from the network."
A source told Reuters that each unit, which includes a nuclear reactor, along with a cooling system and other equipment which has three Soviet-era diesel generators which "are not able to work for weeks."
The British Ministry of Defence (MoD) released satellite imagery of the nuclear power plant on Thursday which appears to show Russian heavy weaponry, including tanks, parked just 60 metres from reactor five.
The MoD said in a statement, "Imagery indicated that Russia maintained an enhanced military presence at the site, with armoured personnel carriers deployed within 60 metres of reactor number five.
"Russian troops were probably attempting to conceal the vehicles by parking then under overhead pipes and gantries."
The MoD warned, "Russia is probably prepared to exploit any Ukrainian military activity near ZNPP for propaganda purposes.
"While Russia maintains the military occupation of ZNPP, the principal risks to reactor operations are likely to remain disruption to the reactors' cooling systems, damage to its back-up power supply, or errors by workers operating under pressure."