Dream Pairs recently launched the new comfortable pumps that let you stand all-day, providing yet another shoe collection for fashion enthusiasts. What you and other women stand to benefit from these heeled shoes abounds as Dream Pairs continues to put their teeming customer satisfaction at the forefront of ideas. From comfort to style, the shoes are at par with modern-day requirements.
Pumps are, however, not new to those frequenting women's shoe stores. They have been around for years and are a favorite for most sartorialists, especially on formal occasions. Yet, there are some exceptions to the features as different brands continue to record new stocks.
While Pumps are versatile to exude fashion in various forms, they are most renowned for formal styles. But you can tell there is more than meets the eye with the new Dream Pairs standing Pumps. These women's shoes are a timely transition for newbies and seasoned fashionistas.
The Dream Pairs pumps that lets you stand all day without breaking your back
The time spent shopping for quality Pumps with friends or colleagues who stand all day at work is now shortened and has become effortless. Women's pumps are known for combining style and comfort, and the new Dream Pairs collection is no exception. Even better, the new standing all-day Pumps are more supportive and allow you to experiment with different looks without sacrificing comfort.
With a skin-friendly inner layer, there is no friction, and foot blisters are kept to the barest minimum while walking. In addition, the breathable layers in the insole help prevent stinky feet that may arise from sweating if your job requires you to stand all day or walk constantly. Enjoy maximum cushion in their slip-resistant outsole and modify styles to preferred looks without fashion breaks or hassles.
The Dream Pairs Standing Pumps are versatile as semi-formal shoes to elevate your overall look while also suitable for a few formal attires. Their blacks are ideal for the workplace, and other neutral hues complement a variety of outdoor attire. You will look great at work in jumpsuits or slim-fitted dresses for evening outings and dates. In a nutshell, the new Dream Pairs Pumps collection will make you appear nothing less than sophisticated.
The new Dream Pairs collection
Edena chunky low block heel pumps
Would you love something sleek and trendy for workplaces? The chunky low-block heel Pumps are timeless office shoes. Employees in these shoes do not have to worry about bruised feet from standing for hours on tasks. Modern fashionista's choices are also at par while availing multiple options of preferred styles.
The Edena Pumps are of 3 layer insole that provides arch support and is lined with a skin-friendly fabric to reduce friction. You can walk naturally in their flexible outsole that relieves pressure on uneven terrains. The shoe's exteriors also provide grip, allowing for stability and reduced compression. With an in-depth padded collar, it is bye-bye to chafing and discomfort.
Their blacks and browns are timely essentials for office wear and other semi-formal outfits. You can opt for a pair of black standing pumps with a well-fitted dress, and you will look the best. Want to try styles in trousers? Pantsuits with sleeveless/sleeved shirts are top-grade ups and down for you to wear with brown pumps.
Square toe heel pumps
No woman deserves to have a battered toe. Hence, Dream Pairs considered user safety when designing these comfortable standing Pumps.
The square-toe heel pumps are in a layout that provides a combination of comfort and style at any time of day. They are all-weather and all-places shoes with a classic appearance and a finished tone of simplicity.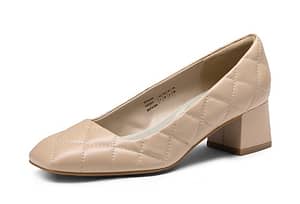 With a retro design, the shoes are practical for wardrobe attires to create an eye-catching look. You will become even more relaxed in their block heels designed for stability and comfort. In square-toe pumps, every day is perfect for elevating styles beyond the status quo to a new level. Walk easily in the non-slippery outsole that provides better traction for the body framework.
The brown and white square toe Pumps are ideal for outstanding styles. Wear the pumps to parties or the workplace and become the cynosure of all eyes. Select your favorite tops with a midi skirt to work and reel out the best look. Having a flair for dresses? The square-toe pumps exude a feminine look in the utmost form.
Edenia Mary Jane round toe pumps
Dream Pairs are not limiting women's dreams in pumps by adding a round-toe option to its latest collections. Stay classic and make the best fashion statement in these shoes wherever you go. If you walk a lot, they are the perfect fit to offer effortless support and keep you moving in comfort.
Start your day in comfort with the wear-to-work shoe styles and walk for long hours with stability and support. Their block heels reduce pressure and enable you to distribute weight if your work demands you to stand all day. You can also count on the inner foam layers that provide cushion to your feet while supporting your feet throughout the day.
Begin a style with blazers and jumpsuits to shine in their sleek feminine design. Dresses are never out of place and are a style you can hop on. They are also flexible to wear with suits and trousers, and you can make the best fashion statement in them.
Tips to style
Women's styling is limitless when it comes to pumps, and there is little to no barrier to getting it right. With these typical female wears, you will become assured that you are on the path to leveraging the new dream pairs collections.
Pumps with pantsuits.
Create a formal style in pumps by wearing the shoes with pantsuits. If you have the outfits in your wardrobe, they are in between formal/casual when uninterested in dresses or suits. The combination is sleek, stylish, and trendy.
For professional engagements in the office, black pumps with pantsuits will create an edgy look. Change the style to a flexible in complete monochrome by adding a black handbag that fits best with your pantsuits. With or without, you can tell both ensembles are suitable to wear for after-office events.
Pumps with dresses
Using a dress to complement the Dream Pairs standing all-day pumps is not out of place, even if women's dresses with pairs of heels are not your regular style. Whether maxis or minis, you can carve out the best fashion tone depending on how versed you are with the duo. Wear the minis with brown pumps to keep your looks at the office simple yet stylish. If you want to exude a formal tone, black pumps with both dresses are viable to reel out your preferred fashion statement.
Pumps with skirts
Pumps with a skirt are also a perfect go-to on a simple day, and wearing them with pumps is one of the best fashion decisions. It is easy to style, and you can swiftly get the best out of them without hassles.