The driver of the train that derailed near Stonehaven, Aberdeenshire has died, and PA news agency are reporting that there could be two more fatality's, and one person is unaccounted for.

The unconfirmed, but suspected cause of the derailment was due to a landslide which possibly could have been caused due to the heavy rain that struck last night.
It has been reported that the train was the 06:38am Aberdeen to Stonehaven which had six passengers and six staff on board the four carriages.
On Wednesday thunderstorms caused widespread flooding across Aberdeenshire which closed some schools, with cancellations of some rail services.
Network Rail Scotland tweeted, "At Carmont, we've had reports of a landslip, which means services can't operate between Dundee & Aberdeen."
At Carmont, we've had reports of a landslip, which means services can't operate between Dundee & Aberdeen. /2 pic.twitter.com/1E29tKHFhy

— Network Rail Scotland (@NetworkRailSCOT) August 12, 2020
Network Rail Scotland said they are "working alongside the emergency services to respond to an incident involving a train near Stonehaven."
A spokesperson added, "It is too early to confirm the exact nature and severity of the incident and more details will be made available once known."
Andrew Bowie, the Conservative MP for West Aberdeenshire and Kincardine said, "The situation was really bad this morning, the River Carron, the main river which flows through it, had burst its banks and the heavy rain had caused flooding in the centre of Stonehaven and lots of the side streets leading off it.
"Luckily, the water receded incredibly quickly, and the river has peaked and is going down.
"Obviously none of us expected there to be such a serious incident as a rail derailment at the same time, but it just goes to show how damaging the bad weather can be."
Stonehaven :(. Hope everyone is OK. pic.twitter.com/4uVjQfX5OU

— Douglas Park (@nachoman18721) August 12, 2020
Bowie added, "I don't think speculation is helpful at this stage. We obviously don't know why the derailment took place, but obviously we have suffered terrible weather here."
A spokesperson for NHS Grampian said, "We can confirm we are on a major incident footing following an incident involving a train near Stonehaven.
"We have well-rehearsed protocols and procedures for dealing with such incidents and are working closely with emergency service partners."
Scotland's First Minister Nicola Sturgeon confirmed that a "major incident has been declared" and there are reports of people having "serious injuries."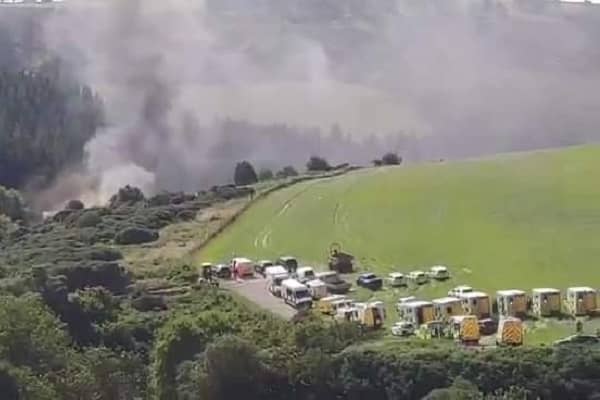 A ScotRail spokesman said, "We're assisting the emergency services with an incident near Stonehaven, and will provide more information when available."
Mick Lynch, the assistant general secretary of the Rail, Maritime and Transport union said: "RMT is aware of the major incident at Stonehaven and our reps are liaising directly at senior level with both Scotrail and Network Rail.
"Our priority at this time is to support our members, their colleagues and their families and to do all that we can to assist the rescue operation which RMT members are currently involved in.
"The facts behind this incident will need to be established in due course but at this stage we are focused on support and assistance and our thoughts are with all those impacted by this tragedy."