From Queen Elizabeth II to Victoria Beckham, many celebrities poured in to wish Madame Marie Tussaud a very happy birthday.
Founder of one of London's most famous attractions, Madame Tussauds, Marie would've celebrated her 250th birthday today.
Prime Minister David Cameron, David Beckham, Dame Helen Mirren and Russell Brand were also among others in the A-list party.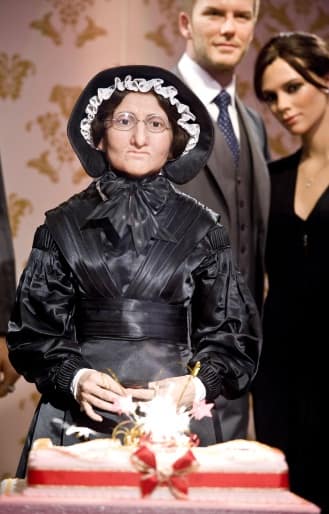 But the real surprise element was the announcement of a host of new faces for 2012.
American heartthrob and Twilight star, Taylor Lautner, is now ready to have his cheeks kissed as he joins the waxworks family in January, after becoming one of the most requested personalities in 2011.
Come February, English diver Tom Daley too will be captured soaring from his diving board towards the water.
Will and Kate will join the royal line up to celebrate their first Wedding Anniversary in early April next year, shortly before a brand new figure of Queen Elizabeth II is revealed to mark her Diamond Jubilee in June.
The new figure will replace her current one, created in 1996 and it will be the 23rd figure of the Queen; she was first featured as a toddler back in the 1930's.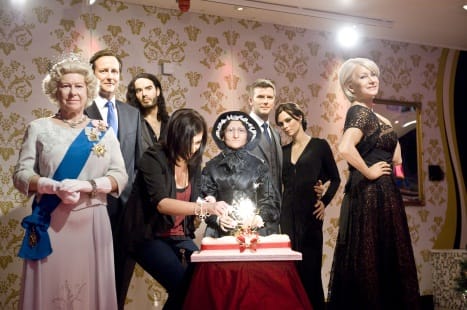 A Little bit of history:
Born in Strasbourg in 1761, Marie Tussaud studied model-making and started her ubiquitous travelling exhibition of waxworks.
In 1802, she left her husband behind to showcase her talent in the British Isles. By 1835, she had a loud and proud exhibition fan following at 'The Baker Street Bazaar.'
After her death in 1850, Tussuad's grandsons moved the attraction to its current site on Marylebone Road.
Despite enduring many trials and tribulations – such as being destroyed in a fire in 1925 and bearing two World Wars – Madame Tussaud's has alwaays rose from the ashes and is still one of London's most visited attractions.