The latest Ipsos Political Monitor, taken 22-29 June (before the resignations of Rishi Sunak and Sajid Javid), shows likeability ratings of both the Prime Minister and his party falling since September to their lowest point under his tenure, as Britons say they "like" Keir Starmer more than Boris Johnson (38% vs. 27%), and the Labour party more than the Conservatives (by 44% to 32%).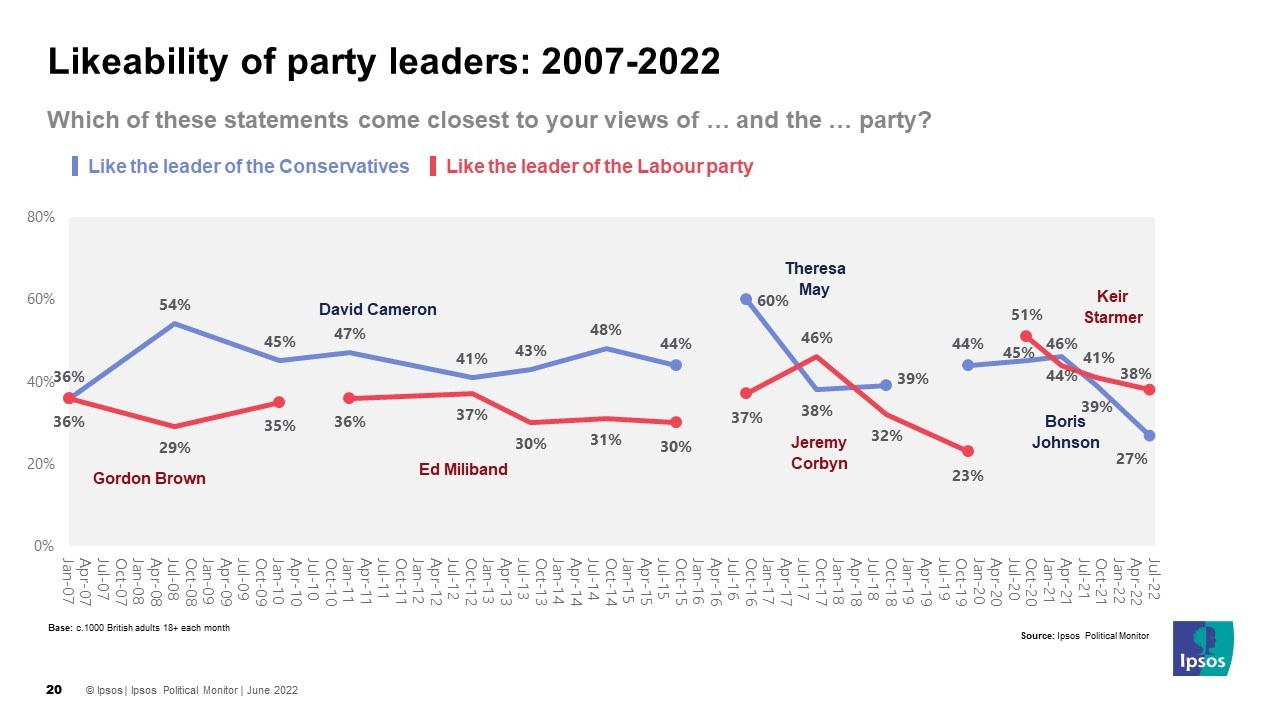 One in four (27%) say they like Boris Johnson, with his numbers falling 12 points since last September, while two in three (67%) say they do not like him, up 14 points.
The fall in the Conservative party's ratings is more muted (-4) but its popularity is lower than it has ever been in the last decade. Mr Johnson's likeability score is lower than ever achieved by Theresa May (38%) or David Cameron (35%) whilst in office – the last Prime Minister to have figures as low as this was Gordon Brown in July 2008 (29%). Although Gordon Brown recovered in the run-up to the 2010 General Election, he remained less liked than his opponent David Cameron.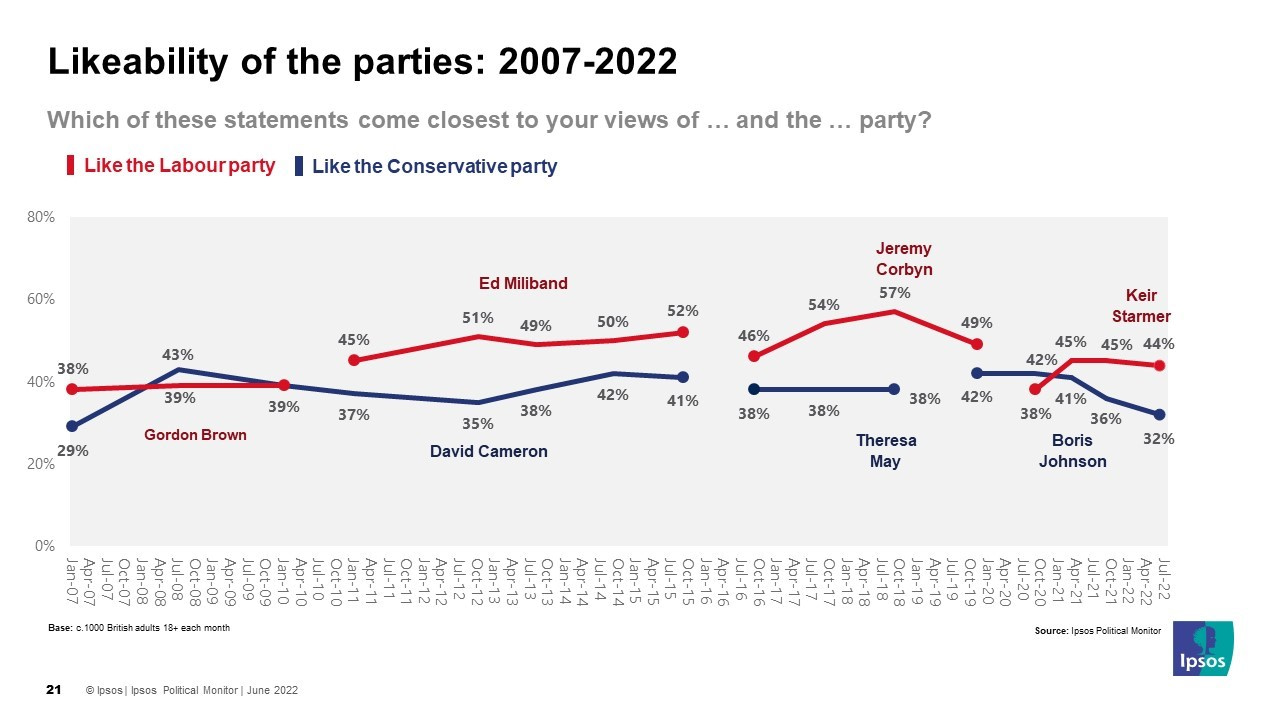 Half (50%), say they do not like Mr Starmer, which is a slowly worsening trend over his time as leader. The proportion now saying they like him is comparable to the highest achieved by Gordon Brown (36%) and Ed Miliband (37%) during their tenure. It is lower than Jeremy Corbyn's peak in September 2017 (46%), but better than the lows Mr Corbyn received in 2018-2019 (reaching 23% in November 2019).  He remains slightly less liked than the Labour party itself (44%) which is little changed since last September.
Elsewhere, looking at their most recent satisfaction scores, around a quarter are say they satisfied with the Government (23%, down three points over the month) and Boris Johnson (25%, down 3). Seven in ten (69%) are dissatisfied with both (up 3 and 5 points respectively).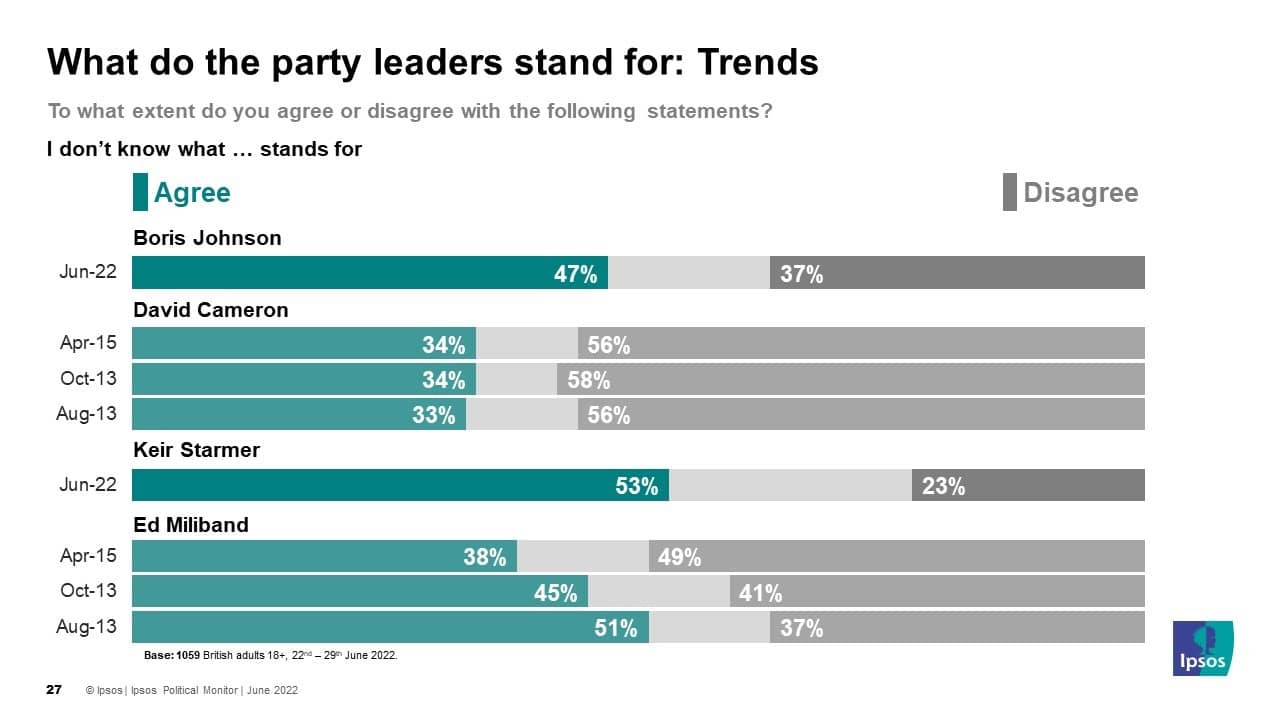 Johnson's net satisfaction score of -44 is back to the lowest level he has received as Prime Minister in January (when it was -46) and is comparable to Theresa May's (-44) and John Major's (-46) at a similar point into office. Two in three Conservative (67%) supporters, though, remain happy with him.
One in three are satisfied with Keir Starmer (32%), against 46% dissatisfied, little changed since last month. Half (52%) of Labour supporters are happy with his performance. Almost three in ten are satisfied with Ed Davey (28%) and the same proportion dissatisfied (28%), whilst two in five have no opinion (43%).
Around half of Britons agree they do not know what either Boris Johnson (47%) or Keir Starmer (53%) stands for. In contrast, almost two in five (37%) say the opposite about the Prime Minister, but around one in four (23%) disagree for the Labour leader – where more are neutral or don't know. Labour supporters are more likely to say they don't know what Keir Starmer stands for than Conservative supporters are for Boris Johnson (by 43% to 29%).
Keir Starmer's figures are worse than previous Labour leader Ed Miliband's in April 2015 (when 38% said they didn't know what he stood for) and October 2013 (45%), although in August 2013 half (51%) also felt they didn't know what the then Labour leader stood for. Boris Johnson's numbers are worse when compared to David Cameron's in 2013-2015, when only around one in three said they didn't know what he stood for.
Gideon Skinner, Head of Politics at Ipsos UK said, "Boris Johnson's falling public opinion ratings provide the backdrop to the surprise resignations of Rishi Sunak and Sajid Javid, and other members of the Government.
"Satisfaction with the way Mr Johnson is doing his job as Prime Minister is comparable to John Major and Theresa May at this stage, while the last Prime Minister to have likeability scores this low was Gordon Brown in 2008.  Mr Johnson was still retaining some support from his own voters, but this was before the fallout of the last few days has landed.
However neither party leader will be very comfortable with their public opinion ratings at the moment.  Keir Starmer is struggling to get his vision across – even amongst Labour voters – while his ratings are only average for an Opposition Leader, and behind successful ones like David Cameron and Tony Blair."