Day one: Cool safe start, building to an explosion in a paint factory
Vin and Omi are fasion designers, reporting on London Fashion Week exclusively for LondonlovesBusiness.com
The start of day one at London Fashion Week was a sluggish affair for many; the international fashionistas and press had arrived bleary eyed as New York Fashion Week ended the day before – eye bags were in abundance.
Iconic brand Mulberry had designed a special bag for the press …. knowing that bribery will always get them a mention!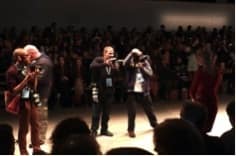 The 9am start for the Paul Costello show at Somerset House was a bit much, but it was worth it to see Celebrity Master Chef contestant types a bit doggy around the edges.
The models looked like porcelain dolls gliding down the catwalk wearing elaborate embroidered garments in soft fabrics. Lovely pale baby doll dresses, contrasted sharply with black and white statement dresses. Guys got a look in with almost 1970s throwback tailoring on sharp suits and long jacket coats. These are the clothes you should invest in as staples. Okay, maybe not the bolder numbers, but there were quite a few outfits that you could wear again and again.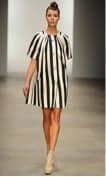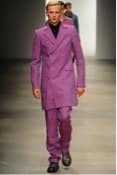 Style all the way with a retro flick
One of London's newest talents is Krystof Strozyna. Graphic blocks of colour on floaty soft fabrics worked really well on his dresses, again creating investable pieces that can shift from day to evening wear easily. We bumped into Jade Ewen from the Sugarbabes there who had been carefully placed in the front row wearing one of the designer's new dresses.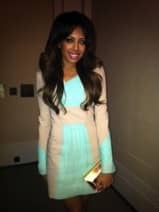 Jade Ewen
Known for their ground breaking multi-coloured prints and contemporary cutting, Basso & Brooke always attract a cool audience. The pair had their show in an abandoned sorting office on New Oxford Street. The long queues outside the show looked like hundreds of bright cage birds were fighting to get discount bird seed. Thank God for queue jumping passes.
The venue was dark and industrial, the attendees edgy and cool. With such a high turnout, even straight talking ex fashion editor of the Telegraph Hillary Alexander was sitting on the floor in her designer dress. Maybe if she was still the fashion editor they would have found her a chair!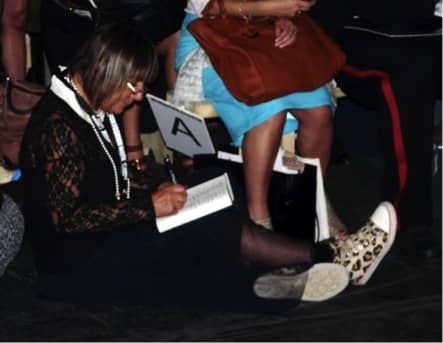 And when the lights came on, we were dazzled with in-your-face colour combinations which popped the little veins in the back of the eyeballs. This was the first time the fashion posers in indoor sunglasses were justified in keeping them on.
OTT digital printing on dresses has spoiled us as we are used to elaborate prints, but Basso & Brooke still churn out quality, combined with great cuts and quality fabric, the show was the day's winner. If you are partial to a grand entrance, or you like showing off, or you feel a night at the opera coming on, this is the one to buy.
Basso & Brooke
Lesson: that car crash colours work nicely on classic dresses
Long term investment: Paul Costello – should last you four weddings and a funeral.
Highlight: Hilary sitting on the floor