The Conservatives are up to an all-time high of 89% to win the seat of Hartlepool from Labour ahead of tomorrow's key by-election.
The London Mayoral Election is seeing Sadiq Khan cruising to re-election at a 98% chance.
The Tories also look set to retain the West Midlands and Tees Valley mayoralties in a blow for Labour, with the incumbents trading at 93% and 91% respectively.
North of the border in Scotland, the SNP's chances of winning a majority in the Scottish Parliament remain on a knife-edge, with 'no majority' marginally ahead at 52%.
Over in Wales, Labour look set to win the most seats in the Senedd, but a majority looks unlikely (20%).
A bad set of results for Labour could spell trouble for Keir Starmer who, for the first time ever in our market, is more likely than not to leave his post by 2023 (57%).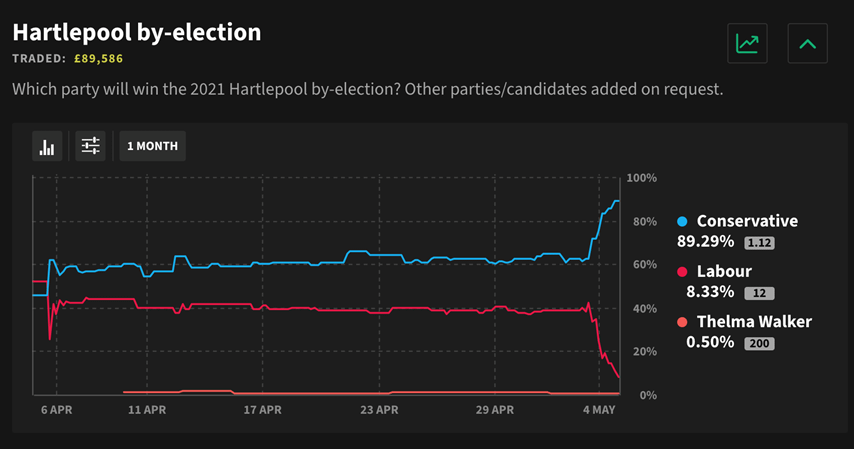 Note: betting odds do not always add up to exactly 100%
Patrick Flynn, Smarkets Political Analyst said, "Keir Starmer's victory in the Labour leadership election 13 months ago was predicated on his perceived electability and capacity to win back leave-voting, so-called 'Red Wall' seats that Labour had lost to the Conservatives just months earlier. While 13 months may not seem like a long time to turn the party's prospects around, it is worth noting that Starmer resigned from his predecessor Jeremy Corbyn's Shadow Cabinet just nine months into the latter's tenure, calling for a change of leadership. If Labour performs as poorly in Thursday's local elections as our markets are suggesting, there's a chance that Starmer's own leadership faces a crisis of confidence in the coming months.
"Most of the focus is on the by-election in Hartlepool: a seat that Labour held by nine percentage points in 2019 despite a blue wave washing over many of Labour's Brexit-voting constituencies. Yesterday, the Conservatives climbed to a record-high 83% on our market to win the seat, accompanied by a Survation constituency poll giving the Tories a 17-point lead over Labour. While our markets on the Conservative and Labour vote shares suggest a closer result – more like 46%–39% – any Labour loss (which would mean the party going backwards on an election where they already fared poorly) would be hard to view as anything other than disastrous.
"Notably, there are 27 other Labour-held seats like Hartlepool in England and Wales, where the party's majority over the Conservatives is smaller than the Brexit Party's 2019 share of the vote. MPs for those seats include Ed Miliband, Yvette Cooper and Nick Thomas-Symonds (the Shadow Home Secretary), as well as outspoken backbenchers on the party's left such as Ian Lavery, Jon Trickett and Zarah Sultana. If a loss in Hartlepool on Thursday looks likely to be a part of a wider pattern for Starmer's Labour, especially if the party also loses ostensibly winnable races like the West Midlands and Tees Valley mayoral elections, backbenchers and frontbenchers alike could start to get antsy and question the leadership."