The likelihood of Boris Johnson facing a no-confidence vote this month has risen to 43%, according to this morning's odds on the Smarkets betting exchange.
The chance of the PM leaving his role this year has also risen over the past 24 hours, with a 2022 exit now priced at 67%, up from 59% yesterday.
Following Rishi Sunak's economic announcements and press conference yesterday, the Chancellor is rated 36% likely to succeed Johnson (up from 32% yesterday morning).
Tom Tugendhat has moved up into third place in the race to take over as leader, now given a 10% chance.
Liz Truss (13%), Jeremy Hunt (9%) and Penny Mordaunt (8%) are the only other contenders currently with odds higher than 5%.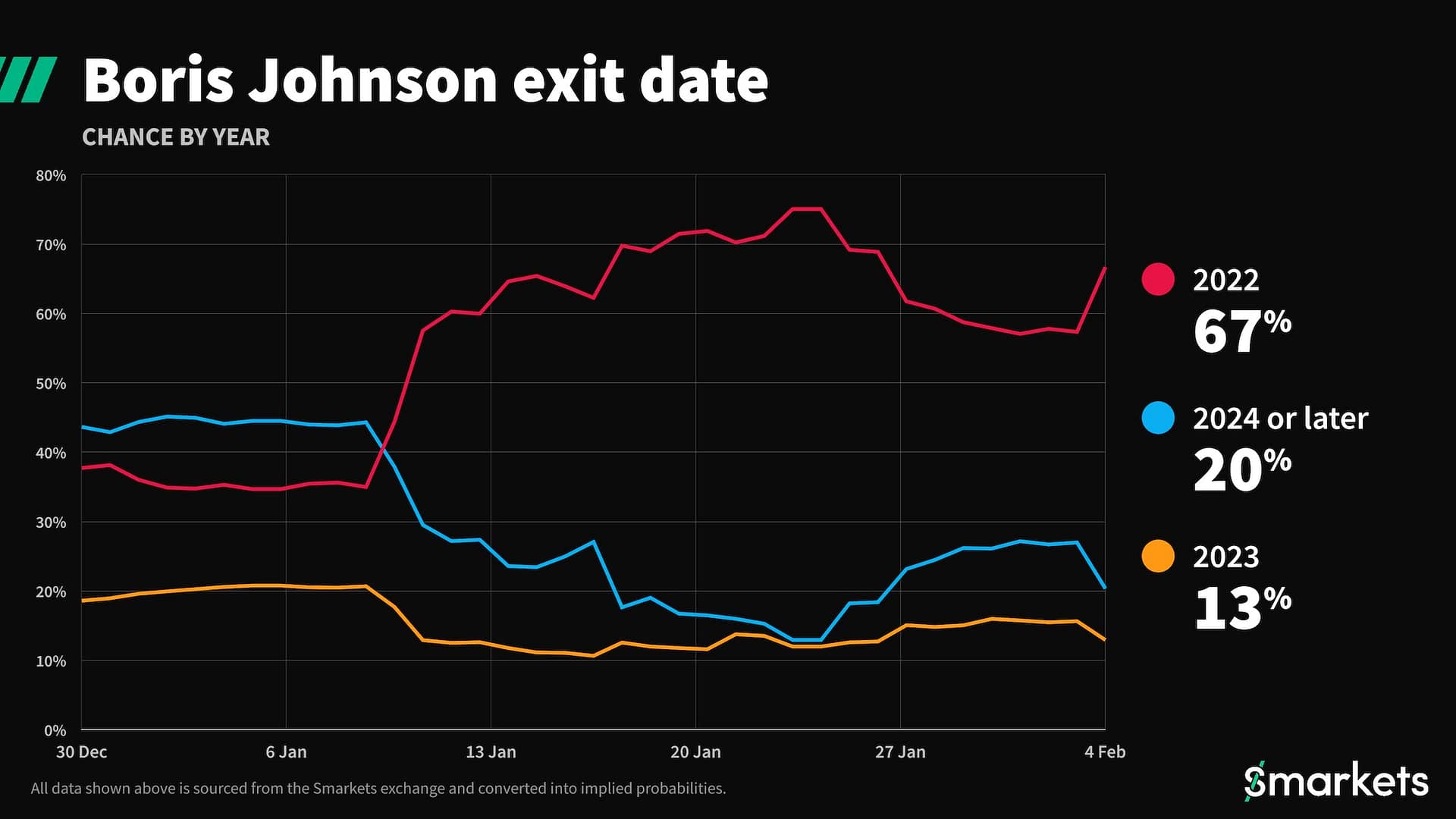 Matthew Shaddick, Smarkets Head of Political Markets said, "The Downing Street shake-up – including the high-profile resignation of long-term aide Munira Mirza yesterday – has seemingly weakened Johnson's position over the last 24 hours, according to the latest betting-market moves.
"The odds of 54 Tory MPs submitting letters of no confidence this month and triggering a vote have risen from 30% to 43%, while Johnson's chance of surviving the year fell once again – a 2022 exit is now at 67%.
"Despite the bad economic news in recent days, Rishi Sunak's position at the head of the market to take over from Johnson improved somewhat and he remains a clear favourite, with a 36% chance of winning the next leadership contest (up from 32% in the last 24 hours).
"Tom Tugendhat's admission that he would likely run in a leadership vote has seen him leapfrog better-known candidates into third place in the Next Tory Leader betting.
"Other dark horses whose odds are improving include Penny Mordaunt (8% chance of succeeding Johnson), Ben Wallace (5%) and Nadhim Zahawi (3%)."