Labour have a 17pt voting intention lead over the Conservative Party, according to the latest poll from Savanta.
The poll, conducted over the weekend (10-12 February), shows Labour on 45% of the vote and the Conservatives on 28%, the former down one point from the previous week, and the latter up one.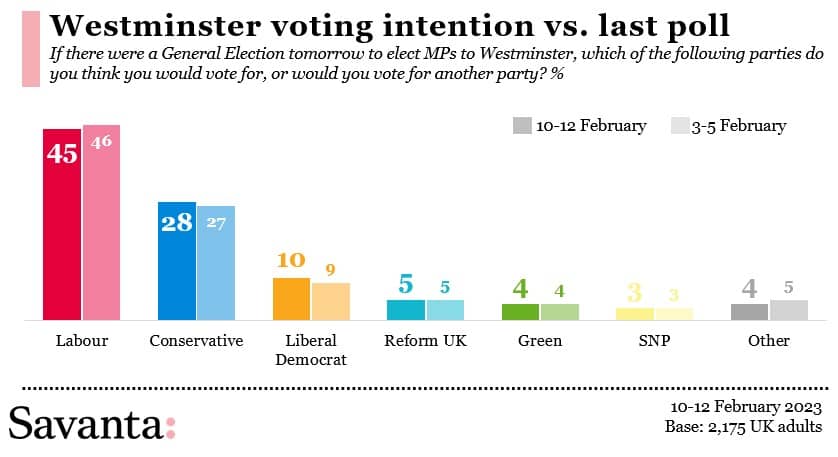 This poll presents the join-second smallest Labour lead of 2023 in a Savanta poll, following previous leads of 16, 17, 21 and 19 points.
Chris Hopkins, Political Research Director at Savanta said, "Despite a lead drop of two points, following a drop of the same proportion the week before, this Labour lead would still return a healthy majority if replicated at a General Election, and is probably more to do with natural variance than any recent Conservative fightback."
"Indeed, changes by 1-2 points each week are fairly irrelevant. What is interesting is the stability of Labour's lead; every Savanta poll, excepting one clear outlier, has given Labour a lead of 16 points or higher, with Sunak unable to reduce that throughout his premiership so far.
"It's remarkably similar, in some respects, to the final days of Johnson's reign, where the Labour lead was incredibly stable. The major difference this time, though, is that the Labour lead is several points higher, pointing sintead to a comfortable majority as opposed to a hung parliament."