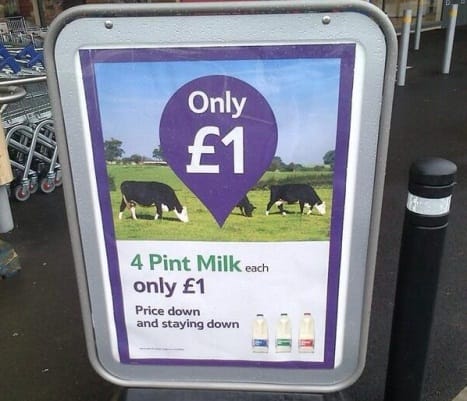 Source: @EdensHandbridge
Supermarket giant Tesco has been forced to axe a milk advert that used the wrong breed of cow.
Tesco is getting serious backlash from UK farmers for its mistake.
Farmer Richard Yates from Bridgnorth told the Shropshire Star that Tesco was using cows that "would never have been milked in their lives".
"That shows how out of touch they are and what they think of dairy farmers."
Greengrocer Kevin Brackenbury of Chester told the BBC: "I saw the advert, and coming from a background of working in supermarkets for more than 30 years, I find things like this most amusing.
"But the price of milk for farmers is a serious issue, and I'm sure some won't take kindly to this sort of thing."
A Tesco spokesman said: "As soon as we spotted this mistake we organised for new pictures to be used, which customers can expect to see in their local store very soon."