Windmills, distilleries and shipping containers – this is what democracy looks like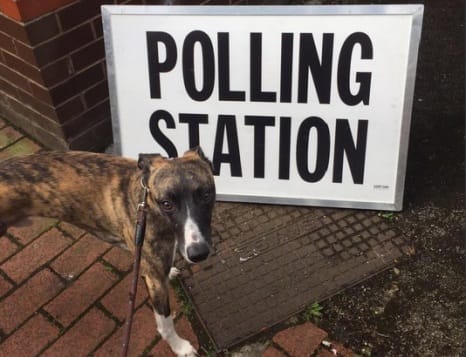 It's election day! It's the eerie calm before the storm. There's little to be done but watch, wait, speculate wildly and marvel at the confidence and despair unfolding all around you.
But to keep your mind occupied briefly, let's take a quick look at some buildings. Yes. These are the most glorious polling stations across the land.
This is what democracy looks like – bloody fantastic.
Britain's most badass polling station? At the Royal Artillery Museum in Woolwich pic.twitter.com/USt8cyR6n6 (via @lipsticklori)

— David Wyllie (@journodave) May 7, 2015
@journodave @TomChivers @lipsticklori …that even beats my station in Tooting pic.twitter.com/gNEFaCTCvT

— Joe Watts (@JoeWatts_) May 7, 2015
My local polling station, always a contender for "Britain's most prison-like". pic.twitter.com/96pRFhIiE7

— Peter Walker (@peterwalker99) May 7, 2015
Here's "polling station" in Welsh:
FIRST into my local polling station in Coed-llai (Leeswood) to put #Cymru FIRST. #Plaid15#GE2015#Etholiad2015pic.twitter.com/JN2cVubAag

— SC14: Teulu Celtaidd (@SteCymru14) May 7, 2015
At 7.15, queues to vote at my polling station. Not sure if high turnout or bad organisation of station pic.twitter.com/CtN8fTuvP9

— Dan Corry (@DanRCorry) May 7, 2015
Photo: Just been down to pop my X in the box… Fingers crossed! #polling#stationhttp://t.co/TiDoFgxVPE

— Rachel A Blackwell (@racheblackwell) May 7, 2015
Gave my support to @olivercoppard and @geoffforcrookes at this rather odd polling station. Good luck guys. pic.twitter.com/zMIExNiYLi

— Helen Garner (@HGarner8) May 7, 2015
Street View of my home polling station. The countryside is so picturesque. pic.twitter.com/9FYgwFYdSm

— Alastair Coote (@_alastair) May 7, 2015
No tank outside my polling station but who can resist combining a little voting with some weight loss? #GE2015 pic.twitter.com/jOUINKaedP

— Andrew Flinn (@Andyucl) May 7, 2015
This is the walk to my polling station, ahead beyond telegraph pole in centre. Lovely day here in N Yorks #ge2015 pic.twitter.com/VdBOwyxD3S

— David Banks (@DBanksy) May 7, 2015
@WilsonBlinds You missed off windmills! This is Hove in Sussex, my polling station: pic.twitter.com/idF7YPnAKt

— PressOfficeMan (@PressOfficeMan) May 7, 2015
Distinct lack of campaigners outside my polling station! #GE15 pic.twitter.com/VlaRwr3T2P

— Grant Gowdy (@planetbob99) May 7, 2015
My ever so slightly sad polling station #IVoted #GE2015 #TakePowerpic.twitter.com/rnojVlDEFh

— Emily Rainsford (@EmilyRainsford) May 7, 2015
I #voted in my weird porta potty polling station #LDvote #HearMyVoice#Tottenhampic.twitter.com/Q3affGCBNa

— Ailis Hardy (@ailisruth) May 7, 2015
My polling station is a Sure Start Centre. So that's all sorts of motivating. pic.twitter.com/crA08vFmpI

— Matthew Whitfield (@mwhitfield80) May 7, 2015
Loving my polling station – Tawe Uchaf #PenyCaeInnpic.twitter.com/ZOi8b6tNJF

— Simon David Jones (@Si11Dec) May 7, 2015
I can't believe how far I have to go to my nearest polling station…. #GE2015(taken from my kitchen window) pic.twitter.com/oSzFneZRhV

— Adam Ryan (@AdamRyan2) May 7, 2015
At least this Polling Station gets my #vote #ElectionDaypic.twitter.com/qL560AOtww

— Rich Prime (@pyreneesmidicom) May 7, 2015
Not sure there were enough signs outside my polling station this morning. #GE2015 pic.twitter.com/OG5Zm5nZOh

— Michael Daventry (@MichaelDaventry) May 7, 2015
Now if this was MY polling station I would never ever ask for a postal vote! pic.twitter.com/HigYw71Bsh

— Stuart Young (@stustiffwrist) May 7, 2015
My polling station had net curtains. @The_Hive_Cafe @RoehamptonSU #GenerationVote#VoteGreen2015#VoteGreenpic.twitter.com/C0rAvR1Q9t

— Molly Vingoe (@molly_vingoe) May 7, 2015
Took my dog George to the polling station. I think people were more interested in him than actually voting pic.twitter.com/chaLBUDZKg

— Arran Cross (@Arran_Cross) May 7, 2015
Not sure about this one:
My local polling station pic.twitter.com/8j4dvRVLIH

— Karen (@Karenippy) May 7, 2015
@mendcommunity I dreamt my polling station was in Guatemala! Ended up this beautiful church #IVoted#getoutandvotepic.twitter.com/lUZ0srIPWj

— Sahar Al-Faifi (@SaharAlFaifi) May 7, 2015
Now read