Founder Shaun Pulfrey on defying the Dragons, exporting to 65 countries and his £100m hopes
Kate Middleton, Rihanna, Nicole Scherzinger and even a certain 'posh' person comb their tresses with a Tangle Teezer.
And Dragons' Den fans might recall a 2007 episode when Shaun Pulfrey's idea of a quirky hairbrush was, ahem, brushed off by Peter Jones as a "hair-brained idea". Today, the Dragons might well want to pull their hair out for refusing an £85,000 investment in exchange for a 15% stake.
Why? Tangle Teezer is expecting an £8.2m turnover this year and expects to reach the £20m mark by 2014.
British manufacturing declining, eh? The hairbrush, made right here in England, is exported to some 65 countries including Qatar, China, Peru and Bahrain. By the end of the year, the company will have manufactured five million products from its two factories is Witney, Oxfordshire and St Albans, southern Hertfordshire.
Pulfrey still owns a 100% of the business and dreams of making it a £100m company. How? I speak to him and Gemma Clarke, the global vice-president of Tangle Teezer to find out.
Q. How did Tangle Teezer happen?
Shaun: I was a hair colourist before I launched Tangle Teezer so was naturally aware about the pains of hair tangling and knotting. So to work around that I came up with this technique with a conventional comb that helped untangling hair.
I did it for 15 years and felt that other hairstylists couldn't do what I could. So, I decided to launch Tangle Teezer, a product that solves the problem for all, be it a housewife in Bradford or a super model.
I wanted it to be revolutionary, so that you can't feel what goes through the hair. I wanted to make the experience of hair combing like a ghost going through a wall.
So after a lot research at the British Library I got in touch with an Oxfordshire-based company called Data Plastics which helped me make my prototypes. I had to by remortgage my flat for the product, but it was all worth it.
Q. Why did you go onto Dragons' Den in 2007?
Shaun: A friend pushed me to submit an entry to Dragons' Den because he thought I'd invented the wheel! I was ready to launch the product anyway, so I thought the show would get me good exposure. I was very surprised I didn't get investment but at the end of the day, I got to showcase my product.
But I have to say when I saw the first edit, I felt, "Oh my god, they've taken more than half the pitch out."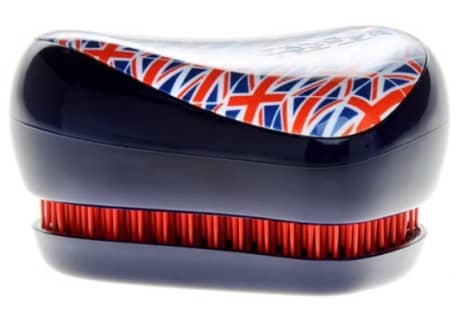 Q. Your idea was called "hair-brained" – what did you think about that?
Shaun: I think Peter Jones just did not get the brand and was quite nasty to be honest. I felt bad after getting rejected but vowed to make the product successful. I knew what I was doing and talking about.
The Dragons kept ridiculing the product and were very dismissive. They didn't realise how much women are willing to pay for a product like that.
I think one day, if I ever sell the business, I will get more money than the Dragons have got themselves – and they might be a little bummed then.
It'll be interesting to show them my accounts without revealing our company name to see if they refuse investment.
Q. That's great! So what happened after the show?
Shaun: We set up a basic e-commerce site for Tangle Teezer and after the show was aired, the website crashed! At the time, I used to have a BlackBerry which beeped every time I got an email. That day, there was beeping non-stop.
I then got Gemma onboard to help us in expanding internationally.
Q. You're now exporting in 65 countries. How did you manage that?
Gemma: Dragons' Den aired in Holland and Belgium and we were selling internationally within three weeks of launch. Then it was just social media and word-of-mouth that got the product out there.
The first countries we went to were Holland, Belgium and France. Then in early 2010, we launched our online shop and suddenly we saw 200 orders in a day from consumers with Chinese-sounding surnames. We did a bit of digging and found that a very famous Chinese model had been shopping in Oxford Street, picked up a Tangle Teezer in Boots and blogged about it. Result? Hundreds of Chinese people were desperate to get a Tangle Teezer. It became our first Asian market.
We were selling 200 a day to China and then we launched the product through Hong Kong's Home Shopping Channel and started selling 10,000 an hour.
Q. Was it easy to crack contracts here? Are there language barriers?
Gemma: We've never had a problem in South East Asia because we deal with young entrepreneurs in Korea, Taiwan or Japan who tend to be educated in the UK or the US and understand business. We never had to go looking for distributors – I probably get five to six enquiries a week.
Our only limitation is production capacity because everything we make right now, we sell. So we have people knocking on our doors to say 'please let us launch in Turkey, India and Saudi Arabia'  but we can't do that because we can't produce enough.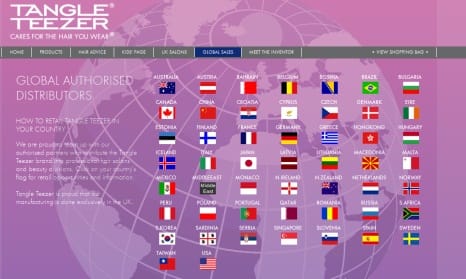 Q. Surely manufacturing in China would be cheaper. Have you never considered it?
Gemma: We gave our Chinese distributors an offer that we can produce Tangle Teezers in China for them, to help reduce the shipping cost. Believe you me, that was like passing a revolver across the table. It's so important to them that the product is manufactured in the UK because of the reputation of the UK design and quality.
Shaun: Also, I used to be the biggest globetrotter before Tangle Teezer, I never realised how amazing England was. I have now become very patriotic.
Today, I feel I've hit a chord with the people. We won the Queen's Awards for Enterprise in 2012 and I'm very proud that I've created a product which has a 'Made in Britain' tag.
Q. What can the government do to help innovators like you?
Shaun: I want to tell David Cameron that I am doing exactly what you want to do in your constituency but you don't even see it. Also the government needs to acknowledge whacky creative people much more. You can't reject funding for innovative products over a ludicrous detail in the forms. We should have a bigger creative fund without the bundles of paperwork.
Q. Finally, what are your future plans?
Shaun: We want to add more products to the Tangle Teezer line that will help us get a £16m-£22m turnover next year. We're looking to boost the business in Mexico and Germany.
It's been a good ride. The amount we made in the first year we perhaps take in two days now. So I think we can become a £100m in the next few years.
Thanks for your time Shaun and Gemma, more power to British manufacturing!
More for you, from us:
The London Business Summit: Thriving in London, Tuesday 25 June 2013
Discover opportunity, explore innovation, drive long-term profits 
Speakers include Martha Lane Fox, Alastair Lukies, Julie Meyer, Mike Butcher, Jo Valentine and many more.
The LondonlovesExcellence Awards Gala Dinner: Tuesday 25 June 2013, from 7pm
London's most important business gala
Network with London's greatest businesses. Judges include Karren Brady, Willie Walsh, Michelle Mone, Luke Johnson and 15 others.
READ ONLINE NOW: Securing Britain's Future
How London's business leaders would safeguard our economic future
Boris Johnson, Martha Lane Fox, Doug Richard, Xavier Rolet and more than 25 other CEOs and entrepreneurs share their insights.
Register for our free newsletter
For up-to-the-minute insights, news and gossip for London professionals and business leaders