Hundreds of protestors have gathered at a statue to protect it as Black Lives Matter demonstrators have called for the Sir Robert Peel monument to be toppled.
The Loyalist Defence League called on followers to converge on George Square in Glasgow this weekend to protect the Peel statue.
https://twitter.com/LadyTyke74/status/1272152527627264001
The founder of the Metropolitan Police Sir Robert Peel statue is under threat as his father had links to the slave trade, But Sir Robert did not.
Scottish Unionist trying to protect the Robert Peel statue slave trader supporter and 2nd Baronet, FRS was a British Conservative statesman who served twice as Prime Minister
A huge crows they have claimed
Lets compare pic.twitter.com/efUhMySvqv

— THE BLACK SALTIRE#FBSI (@80_mcswan) June 14, 2020
On Sunday a group of people who are thought not to be part of the BLM movement are protesting at George Square Glasgow, Scotland and are calling for it to be removed.
Police armed with batons were forced make a line between the two groups which echoed Saturday's violence in London.
The two groups of protestors pelted missiles at each other and police were able to prevent the two groups from violently clashing.
Police Scotland confirmed the group of protestors were demanding the statue be removed.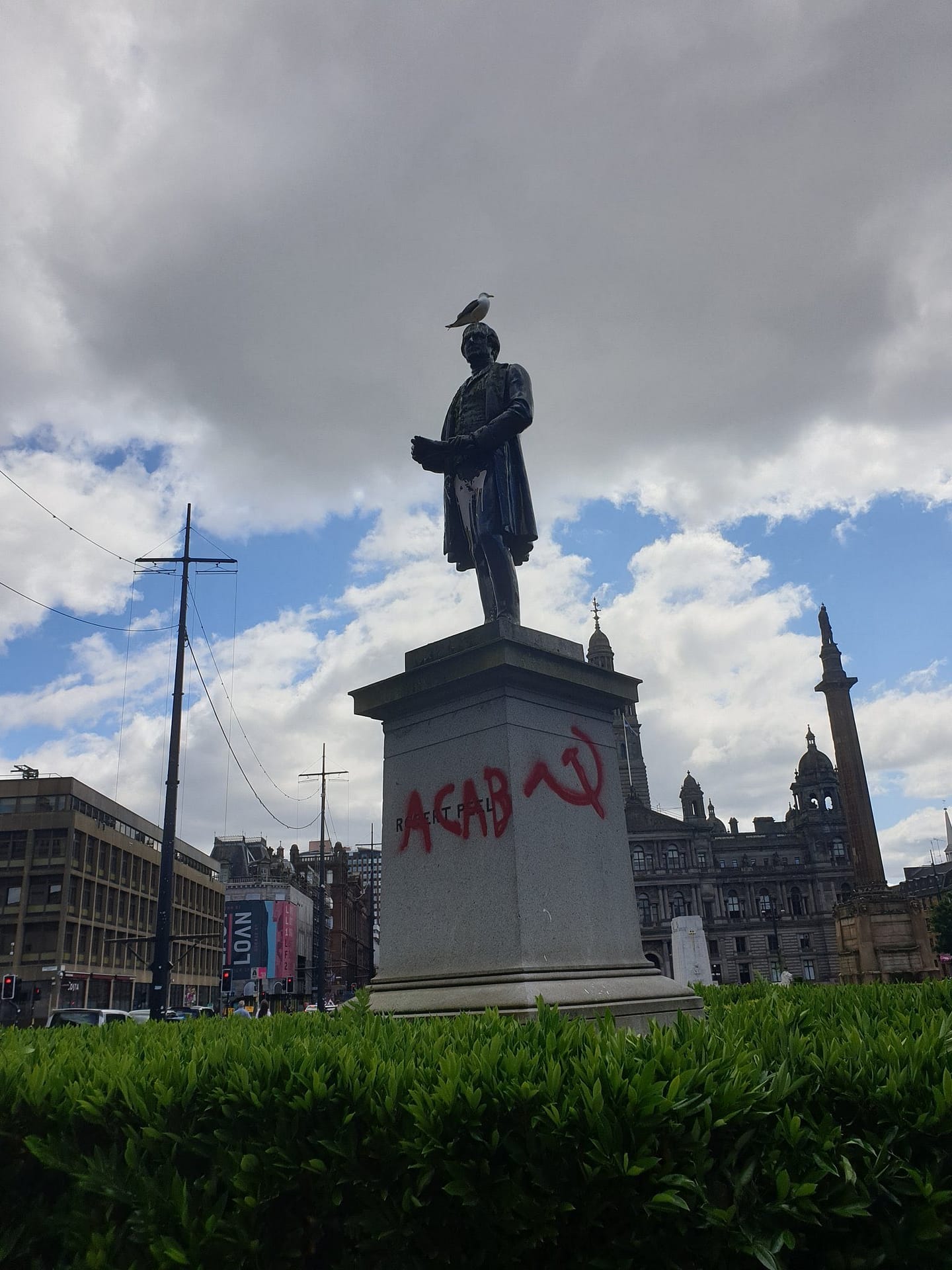 Chief Superintendent Alan Murray from Police Scotland said, "Police Scotland can confirm that officers were aware of a disturbance near George Square, Glasgow today.
"At this time the incident does not appear to be connected to a Black Lives Matter protest.
"Police will always facilitate peaceful protest where practical and safe to do so, but overall public safety of all those concerned is a key consideration."
The event in Glasgow was called "Peel Must Fall" and demanded that the statue of the former Prime Minister must be removed today.
The group posted, "As statues continue to fall daily around the world and the UK. Glasgow must not stay silent".
The group insisted it was "TIME FOR PEEL TO FALL."
The Glasgow Youth Art Collective said on its Facebook page: "We attempted to have a peaceful protest today in city in the style of a public consultation for the people of Glasgow to decide what would be best to happen to the racist and anti-working class statues of George Square.
"Due to the police targeting activists before we were able to gather and no easy access to the square, we have decided to postpone today's demo."