If you head down to the Tower of London today you'd be in for a surprise. London's iconic red telephone box has turned pink!
Six of Sir Gilbert Scott-designed red telephone boxes went pink today to mark the Queen's Diamond Jubilee.
Part of the BT ArtBox project, an open-air art exhibition of different avatars of the red telephone box, the six pink telephone boxes are adorned with the Union flag, diamond dust and the message "Long, Live, Life, Love".
Designed by street artist Ryan Callanan, the ArtBoxes would also be showcased at other venues The Royal Exchange, Potters Field Park, St.Pancras International and Covent Garden over the Jubilee weekend.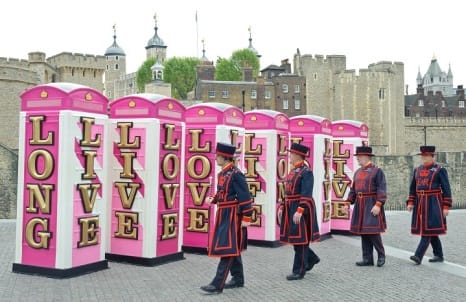 Speaking about the pink Diamond Jubilee artboxes, Suzi Williams, director, BT Group marketing and brand, told us, "BT is proud to carry the royal warrant, so it is important to us to use this project to celebrate the Jubilee in some way.
"BT ArtBox is all about celebrating a great British icon – the red telephone box – and what better time to celebrate than this weekend, with all the buzz around the capital for the Queen's Jubilee. I'm delighted Ryan's ArtBoxes are hitting the streets today for people to enjoy this weekend. 
"Ryan Callanan's design is fantastic – the message is bold and beautiful and it has diamond dust – what's not to love! Seriously though, we feel that Ryan's design combines core elements of "Britishness" – the union flag and "Long Live the Queen" sentiment – with a contemporary twist that's really refreshing, and reflects Britain today."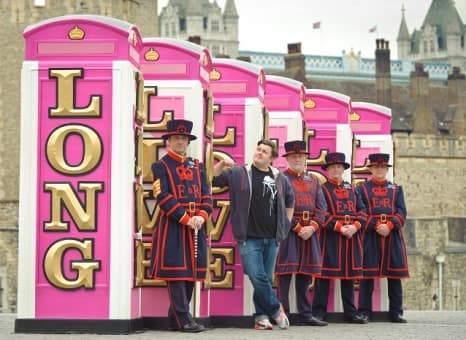 The BT ArtBox project was launched to celebrate 25 years of ChildLine, the charity that provides help and advice for children. Fashion designers Giles Deacon, Zandra Rhodes, Julien Macdonald and photographer Willie Christie are other names that will redesign the red telephone box.
On June 15, the Jubilee BT ArtBoxes will join the other 80 transformed telephone boxes on Trafalgar Square for the official preview of the BT ArtBox exhibition. Then, on 18 July the phone boxes will go under the hammer at an Sotheby's auction at the National Portrait Gallery.