Each year over 980m people travel on the underground each year, meaning on a daily basis it can be a pretty stressful place. New research by PowWowNow reveals London's most stressful tube stations based on TFL data of entries and exits, train delays and negative social media posts over the course of a year.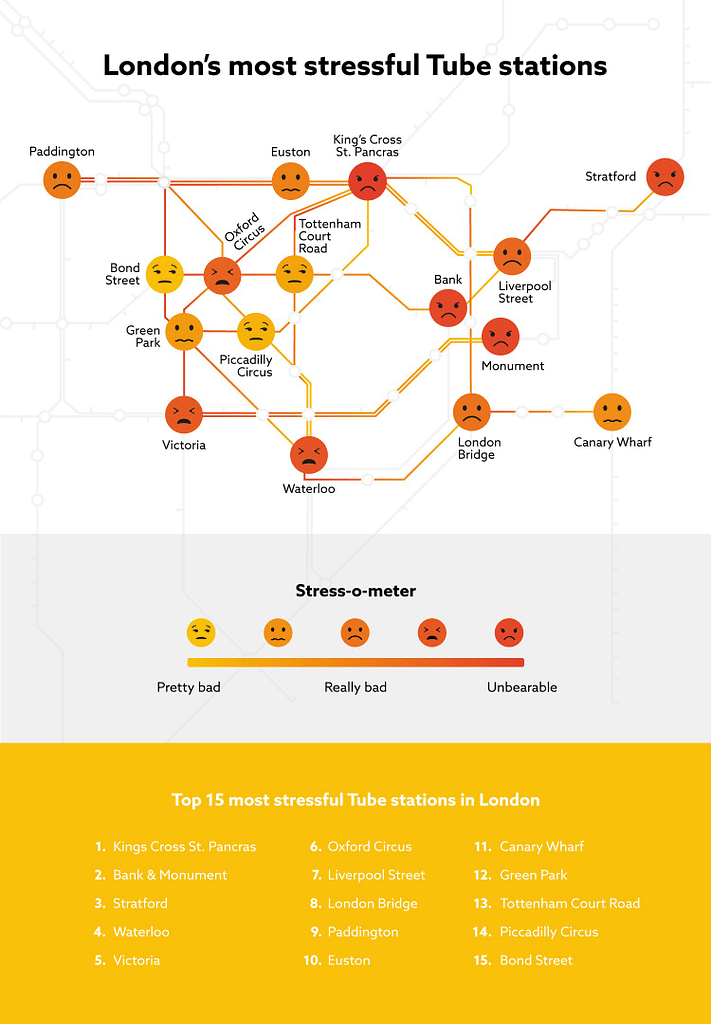 Kings Cross St Pancras is London's most stressful Tube station
Topping the list of stressful Tube stations is Kings Cross St Pancras with an index score of 1.9 (out of 3). It was also the busiest station, with 97.92m people entering and exiting the station over the course of 2017. Out of 268 tube stations across London, Kings Cross St Pancras was also the 17th worst for delays. It clocked 1,853 minutes of primary delays, which is where delays aren't caused by other disruptions, between November 2017 and October 2018. There were also 144 mixed and negative mentions on social media over 2018.
Another central London destination took second place, the interconnected Bank and Monument stations, with an index score of 1.89. Of the top 15, this station saw the most negative and mixed social media posts. Meanwhile, on the border of zones 2 and 3, Stratford took third place and was third worst for delays, clocking up 3,473 minutes.
The top 15 most stressful Tube stations: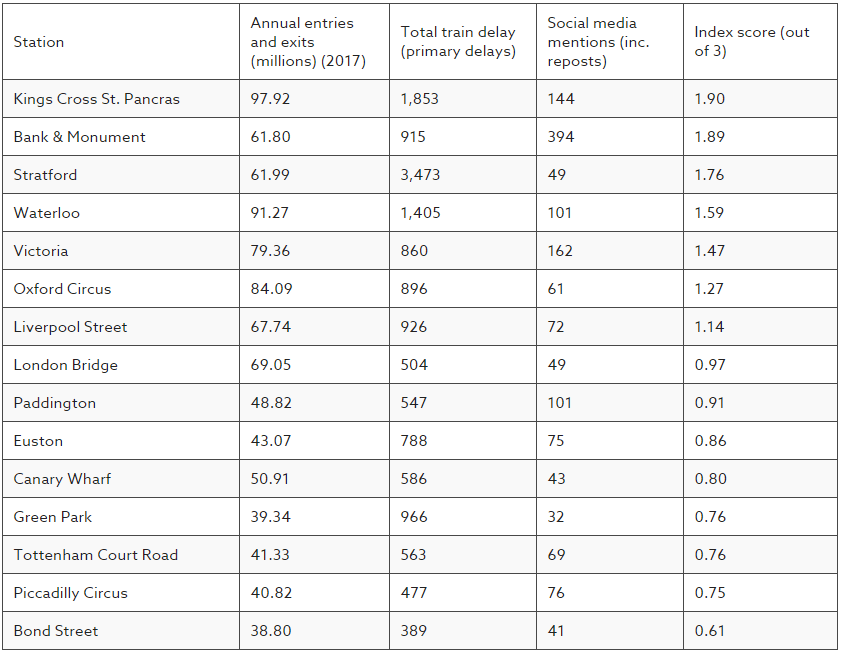 Bank & Monument is London's most negatively mentioned tube station on social media
Looking at the use of #station, #tube, and #train on social media, Bank and Monument saw the most mixed and negative mentions on social media. Victoria station took second place while Kings Cross St Pancras was in third.
Kings Cross St Pancras is London's busiest tube station
Kings Cross St Pancras Tube station saw the most entries and exits over the year. It topped the list with a staggering 97.92 million.
In fact, all the top three were central London stations that are often used by business travellers and tourists alike. Waterloo was the second busiest station, with 91.27 million entries and exits, while Oxford Circus was in third with 84.09 million entries and exits.
Acton Town is London's most delayed tube station
Looking at the stations that saw the most primary delays, it was revealed the worst station of all was Acton Town in zone 3 of West London, with a total of 4,432 minutes of delays. The North London zone 4 station Arnos Grove was in second place, with 3,843 minutes, while Stratford station, on the Central line and near the Eastern terminus of the Jubilee line, was in third with 3,473 minutes.
Barkingside is London's least delayed tube station
With only 17 minutes of delays across a year, the north-east London zone 4 station of Barkingside was the least delayed out of all of London's Tube stops. Located in a similar area, Redbridge had the second least delays, with only two minutes more. Essex's Roding Valley station was in third place, with a mere 22 minutes of delays.
The top 15 least stressful Tube stations are: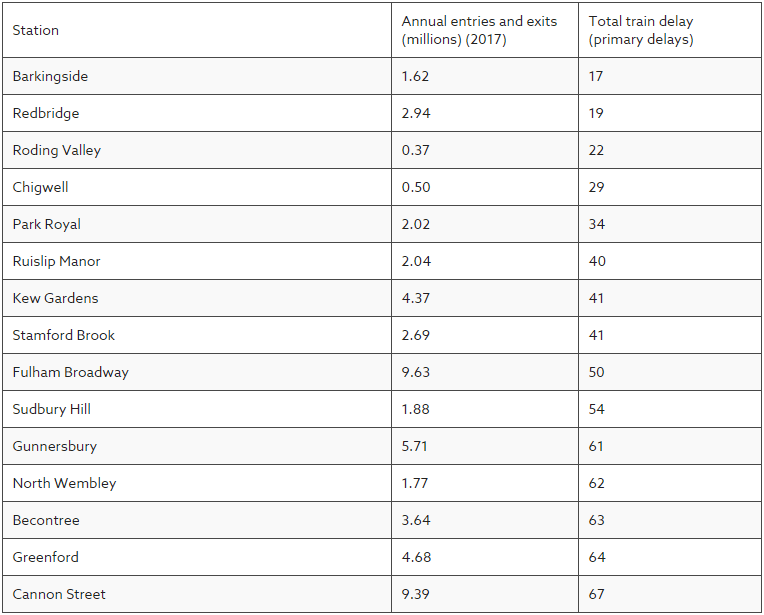 Jason Downes, MD of powwownowsaid, "Many of the most stressful stations are located in central London and all of them serve a variety of lines. Unfortunately, although not unsurprisingly, the top 15 stations that are worst for stress are also popular areas for business.
"Should you want to avoid raising your blood pressure as you navigate the city, knowing which stations are most likely to test your patience could help you work out a commute that's more relaxed, and can ensure you aren't held up trying to get where you need to go."