Everything you need to know about angel investment
All startups begin their life cycle with the aim of becoming the Facebook of their industry, boasting revolutionary offerings and a meaty balance sheet. But to make money, you need money.
Enter angel investment – finance from private individuals usually given in exchange for equity but sometimes loaned for convertible debt.
Business angels in the UK collectively invest an estimated £1.5 billion annually in startups and early-stage businesses.
What is it?
Angel investors are wealthy individuals who put their own money into start-ups. They look for strong growth prospects, with the potential to generate a healthy return on their investment.
Angel finance is usually the first £500,000 or so of equity funding a start-up takes on after bootstrapping. Firms generally work with a handful of angels at the same time, who will typically invest between £10,000 and £100,000 each. The founders give equity to their new investors in return for the finance.
The amount of equity will depend on the valuation of the company, and the scale of the investment required – but as a rule, it tends to be around 20-30 per cent at each funding round.
Equity investment is the preferred asset class amongUK investors, given the government's tax incentives (SEIS and EIS) for angel investing. In the US, however, investors and start-ups generally prefer debt financing, in the form of convertible loans.​​
Angels frequently work together in networks. A good example being FINTECH Circle: a global community of 75,000 fintech entrepreneurs and thought leaders, angel and VC investors, and financial services professionals.
Who is it for?
Like bootstrapping, angel investment is suitable for almost any start-up, according to FINTECH Circle CEO Susanne Chishti. "Most companies take on an angel round early in their development," she says. 
When doing so, they should choose their angels carefully. Susanne advises: "You need investors that know your industry and understand your business. Our angels are all fintech experts who understand the sector."
Angel investors should offer complementary knowledge and skills. Susanne gives an example: "One might have the black book you need, another the deep sector expertise, while another can get you media exposure in the right places, or introduce you to VCs for your next funding round."
Most importantly, there needs to be a good fit between angels and entrepreneurs – what Susanne calls an "alignment of personalities and interests." She says: "One of our investors puts it neatly: only take investment from people you like going to lunch with!"
What are the key criteria and terms?
Susanne says angel investors generally look for three success factors:
The team. Who are the founders, and who makes up the team around them? What is their unique combination of skills? Do they have a track record of successful ventures?
The product. What is its USP? How big is the global market for it? Can it be scaled up globally to achieve economies of scale?
The business model. Do the unit economics make sense? How will the company monetise its product to become sustainably profitable?
What are the benefits and drawbacks?
Susanne describes angel investment as a start-up's "first smart capital". 
She explains: "Angels bring much more than money to the table. They offer expertise, skills, strategic advice, and the network to help your company grow, and to find your next funding round. They're a sounding-board in good times and bad." 
Angel funding isn't easy to come by, however. Angels are private individuals. They don't have to invest – they're not running a VC fund that they're obliged to derive returns from. "So if they don't find the right opportunities," Susanne says, "they won't open their wallets."
Download this report, which outlines everything you need to know about business finance for start-ups, draws on the expertise of the mentors from London & Partners' VC Club and its Business Growth Programme, who help London's early-stage businesses unlock their potential and overcome growth barriers.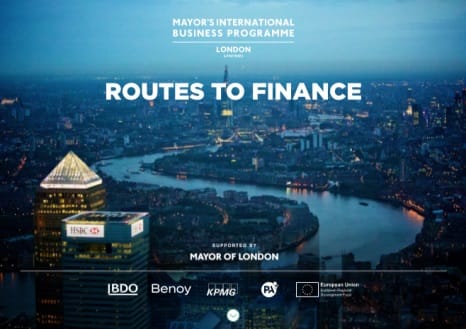 Source: London&Partners