Traditional marketing is fast on the decline. The rise of Social Media platforms has changed the way we interact online. Needless to say, this has affected not only our interpersonal relationships but also our business ones. Most of it has shifted online in a significant way.  With the digital world growing more dynamic, this is an expected change. However, not everyone is able to glide through the transitions smoothly, and several businesses like SocialsUp have emerged to facilitate marketing exclusively via social media.
So, what has changed?
Here are a few ways in which Social Media has brought about significant changes in the marketing world:
Creating brand loyalty
One of the core functions of marketing is to build and sustain brand loyalty. Effective marketing management involves researching how to best create and grow the faithfulness of consumers towards any business. Today social media is a key player in this regard. Businesses use social media to create brand consciousness and, further, to maintain the growth of brand loyalty among their customers. By engaging with potential and existing consumers over the various social media platforms available, brands can create and grow a large following base. Most businesses now find it easy to positively build the brand authority of the customers by using social media to:
Create popular campaigns – It is easy to find people who are willing to follow, support, and share information on a brand's activities online. Although this may not necessarily translate into ready sales, it definitely grows brand awareness in an organic and trusted manner.
Create Stories and posts around relevant content – Most consumers turn to online research for content like product reviews, how-to instructions (even when a product is sold with a manual), FAQs, and customer feedback. When a company posts content centered around such searches on their social media pages, they give the customers the answers they are looking for. As this comes directly from the company, it builds credibility and endears the business to the client by extension.
Create content that is in sync with popular experience and expectations – The typical user likes their content presented well. Good music, humor, sensitive portrayal of issues and characters while promoting company goods generates favorable public opinion towards a brand.  Moreover, the audience expects companies to take a stance and be vocal about social and humanitarian issues.
Cross-post notifications and information simultaneously on various platforms – Companies that keep their audience up-to-date with information regarding jobs, notifications, product recalls, etc. find audience loyalty faster than others. Social media is the fastest way to get across the latest communication from the company to its consumers.
With social media connecting companies directly to customers, many businesses are skipping retailers' and resellers' middle channels. They are no longer investing high budgets in advertising through radio/television channels and are instead taking their goods directly to the end-user via social media. In other words, with the rise of social media marketing, key marketing entities like the capital-intensive supply chains are on the decline. Likewise, third-party partnerships with retailers have reduced drastically. The focus now has shifted to building a strong online brand presence. The key players now are:
E-commerce sites – Landing pages for direct transactions between consumer and company are growing important. Users now prefer to buy and engage directly from a company than through retailers.
Social influencers – Replacing television and radio endorsement celebrities is the influencer-industry. Influencers collaborate to test and review products over a live stream or video postings to give the audience a demonstration-cum-opinion on the same. This industry is split into four categories of influencers, namely: mega-influencers, macro-influencers, micro-influencers, and nano-influencers, whose differences lie not just in the size of their followers. The diverse audience reach of each group works in different ways to achieve set goals for different companies.
Customer reviews – Like the social influencers, genuine customer reviews hold a lot of weight on social media. They can affect conversion rates, brand image, and brand equity. Hence, companies are shifting their attention to the likes and comments of the clients as these affect more than just social media visibility analytics for the business.
Consumer data collection – Social Media sites come equipped with easy-to-use insight analytics for business ventures. This makes data collection on audience behavior quick and convenient for any venture. Knowing the demographics and social media behavior of existing and potential users enables companies to build better consumer relations besides creating profitable business plans.
The shift towards humanising brands
Traditional marketing revolves around a third-person approach to content creation. With brands creating their pages and profiles over social media, there is an increase in the need to personify and humanize the brand. With the rise of digital marketing, companies now find the need to foster one-to-one connections with their consumers as people do. Hence, with the rise of social media, we see an increase in the trend too:
Create Stories that go behind the scenes – Society wants to see what is going on in the business and how things are processed daily. While this does not mean spilling company secrets, brands tend to fare better in generating sales when they post content revolving around employees, company work ethics, factory environment, and related matter.
Create content with an in-house spokesperson – This could be interviews down with staff or demonstration videos.
Create recreational posts that showcase the company's human side – After all a brand is made by people working towards creating products for people. Posts that show staff dancing, taking up viral challenges, having a fun time, or doing something silly are popular crowd pullers in terms of social media analytics.
Host local events, giveaways, and contests – Brands are now frequently promoting local events by sponsoring or collaborating with others. They are also seen to advocate for increasing audience engagement by organizing giveaways and contests for the same.
Focus on social media responsiveness – Responding to quietude and feedback is a crucial way of keeping the company humanized while building loyalty. Sometimes, responses are auto-scheduled. At other times, companies hire personnel specifically to maintain and strategize social media responses and relationships.
What benefits does social media marketing bring to the field?
Social media marketing undoubtedly has improved the ways of marketing in various ways. Here are a few reasons why it has become popular as a preferred means of marketing:
Speed and reach: Social media promotion is speedy. Moreover, the outreach of social media is global. A company can create specific campaigns for a target audience at a fairly manageable budget. In fact, several companies can thrive by promoting themselves at next to no cost.
Conversion rates: Social media marketing has a remarkably high conversion ratio. This is yield perhaps because the tracking of social media promotions is far more efficient and transparent. Audience engagement is easy to note, and conversion rates are earlier to calculate.
Investments are profitable: Following from the above, if conversion rates are high, the rate of return on any investment is also bound to show an upward trend. In other words, companies usually do not draw losses from their social media promotion campaigns. If and when a company fares badly, the cause of the downfall is usually found to be elsewhere.
Community creation: When brands have communities created around them, repeat sales are sure to increase. Repeat sales are a big avenue for income generation for any brand. Therefore, the community space created by social media branding is very crucial for the company's brand building and sustenance.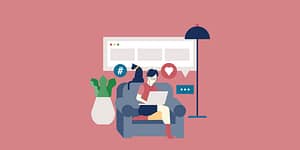 Has the rise of social media marketing seen any significant cons?
The very advantages of social media can also be major disadvantages when it comes to marketing strategies. Here are some cons:
Negative feedback
While companies bank on customer reviews and advantageous influencer marketing, feedback might not always meet company expectations. People can be scathing in their reviews, and harsh judgments are likely to breed unfavorable public opinion among potential clients. Bad reviews generally put off social media users. Negative word of mouth can be very harmful to a company's attempts at growing an organic audience reach.
Social media marketing can be time-consuming
If responsiveness is a key to maintaining great client relationships. It implies that one has to be constantly on social media websites monitoring feedback and other forms of audience engagement. Unless you are willing to invest in a professional dedicated to this job (or outsource the job to a service specializing in social media marketing management), you will need to find time to: effectively manage posting content, monitoring content engagement, responding to audience engagement, and analyzing content impact.
Overall success cannot be gaged immediately
A post may go viral overnight, but how successful is it? Did it bring the company desired brand loyalty? Did it change conversion rates in a favorable direction? Or did it go viral because the content was likable and relatable? Social media marketing, in other words, has complicated calculations for success. In most cases, the likes, shares, and comments on a post are not enough to determine a campaign's success. One has to study the trends of reception over multiple pieces of content posted over a period of time to understand the real metrics of the campaign's performance.
Low ROI
Social media followers require consistent activity from your end to remain" followers". This is one of the prime reasons why ROI from social media is among the lowest generated from online marketing avenues. Since fresh content is what keeps the audience interested, the task of constantly churning out social media content can be quite overwhelming and exhausting for you as a content creator.
The disadvantages, however, are easily outweighed by the benefits of social media. All said and done, and social media marketing has definitely been a game-changer in the field of marketing. It is the new face of marketing, and it is here to stay. To use it to one's advantage, companies must acquaint themselves with the A-Z of digital marketing and social media strategies. You can use social media for marketing your business and having the desired lead generation profitably. Thoughtful planning can bring you the desired audience reach and conversion. Invest wisely to give your company the marketing it deserves.