After the bull run from 2002 to 2011—which saw gold prices increase 660%—gold declined 46% to the 2015 low.
Since late 2020 that decline has been recovered, but the price has been stuck. For two years gold has fluctuated around the 2011 high, forming one of the biggest cup and handle patterns many traders will see in their lifetime. It's taken 12 years to form.
A cup and handle is a bullish chart formation that occurs following a rise (2002-2011). There is then a pullback which forms followed by a rally back to the former high. This is the cup. The price oscillating around the highs creates a "handle".
While gold has already rallied as much as 94% of the 2015 low based on the SPDR Gold Trust (GLD), the long-term uptrend may just be starting. An upside breakout of the handle, with a current high at $194.45, signals the next leg of the uptrend could be underway. The handle has been forming for two years.
Cory Mitchell, an analyst with Trading.biz said, "The nearest similarity to this pattern is when gold fell 40% from 1996 to 1999. It was back to the prior high by 2003 but was stuck there till 2005. It had already rallied 75%, but that was just the start. By 2011, gold had rallied another 310%."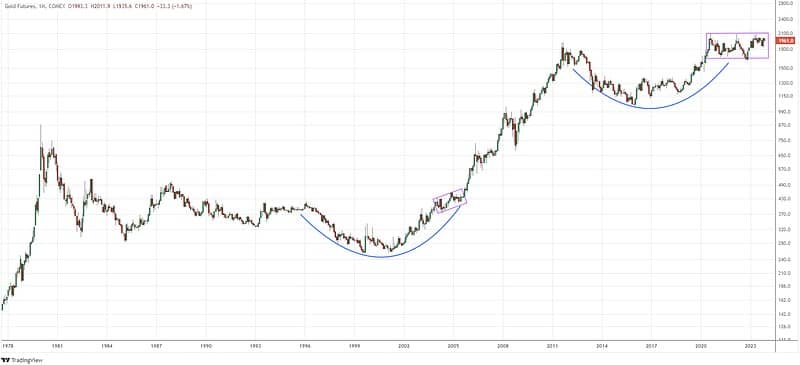 The conditions are not identical. There was no big rally leading into the prior cup and handle, like there is on this one. The handle on the last one drifted up, and the current one is sideways. Also, the current pattern is bigger. The last one took a decade from when it topped until it really started running (out of the handle). The current pattern is in its twelfth year and is yet to break out.
Modern history doesn't provide much context for such a large pattern. Yet, if the rally of the 2000s is a precedent, then there could be 300% upside if gold can clear the $2100 mark ($194.45 is GLD high). But that would play out over multiple years; it took six years in the 2000s.
It's not a smooth ride, following the handle breakout there were two declines over 25% (25% and 34%) before the eventual high was hit. Each of those declines saw prices fall and fail to rally to new highs for at least a year.
The downside of such a large pattern is that it could chop sideways for many months before the price breaks higher. It may not break out (fall), or it may break out, fail to rally, and then fall.
As with all investments, risk management is critical. Once the breakout occurs consider a stop loss below the most recent monthly swing low. The most recent swing lows are near $1800 and $168 on GLD. A slightly higher stop loss can keep risk to 10% or less on a possible generational rally.