Business confidence in London is at the lowest level than at any time in the last ten years, figures published today by chartered accountancy body ICAEW have shown.
Confidence among companies is now the lowest that it has been since 2009, ICAEW's Business Confidence Monitor™ report for London, published on Thursday shows, with Brexit uncertainty, the slowing global economy, and concerns over financial market stability casting a shadow over businesses.
Confidence in London is slightly lower than the UK national average, and has been generally in decline since 2014, in line with the national picture.
Some 38% of companies in London cite marketplace competition as a growing source of difficulty for them, among the highest to report this across all UK regions.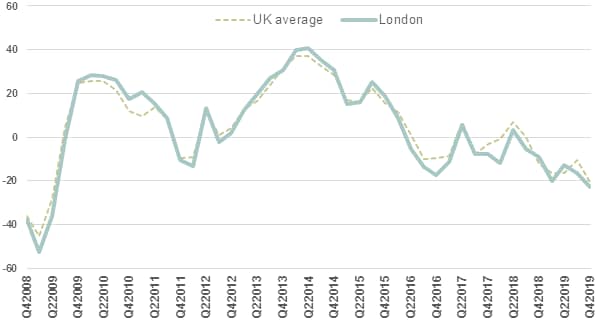 Harpreet Panesar, ICAEW Regional Director for London and the South East said, "Business confidence in London has slumped to a 10-year low, driven by uncertainty. We hope that the new government will ease the strain on businesses and bring some much-needed stability to the economy."
The weakness in business confidence combined with slowing profits growth appears to be impacting investment rates across London-based companies. All forms of investment expenditure are growing at slower rates than nationally, and while capital investment and research and development budgets have both risen by 1.7% in the year to Q4 2019, both are still down from a year ago.