Brexit continues to create turmoil in UK politics two years after the referendum
Some believe this is Bitcoin's chance to establish itself in the UK and Europe
UK investors may choose to store their assets in Bitcoin, given the increasingly volatile price of sterling
Bitcoin could also help businesses trade more efficiently post-Brexit, and provide them with a more stable alternative to traditional currencies
 Since the UK voted to leave the EU in the referendum in June 2016, the public has faced a barrage of sloganeering. First there was 'Brexit Means Brexit'. Then came 'No Deal Is Better Than A Bad Deal'. Now the latest state of chaos has seen supporters of Theresa May calling for an 'Orderly Exit' from the EU.
With time rapidly running out as we head inexorably towards the March 29 deadline, the prospect of a No Deal looks increasingly likely. And with parliament split between different factions, all with their own agendas, it seems increasingly unlikely that the chaos is going to turn into order any time soon.
One beneficiary of all this could be Bitcoin, which by contrast appears to provide a more stable alternative to UK businesses. Here we look at four key reasons why Bitcoin could take advantage of Brexit uncertainty to firmly establish itself in the financial mainstream.
1. It could provide a secure place for investors' assets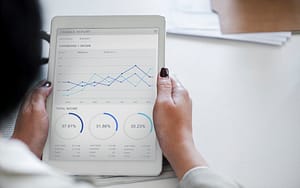 A familiar way to describe the market is as "jittery" – and this is particularly the case when a big piece of Brexit news breaks. For example, since the EU referendum result was announced, many of the major economic indicators have shown overall declines and the forecast for the UK economy is a slowdown in growth.
While the financial market may have seen its own ups and downs, the proposed new order could well see UK Bitcoin become a more favoured form of investment among UK businesses keen to avoid the financial chaos of a post-Brexit world. The UK's withdrawal from the EU could be the stimulus cryptocurrency needs to ensure the widespread uptake many have been predicting for years.
2. It could make trade easier
When the UK joined the European Economic Commission in 1973, the clue to the planned relationship came from the word "economic". It was predominantly intended to be a trading partnership free from barriers and tariffs. So unpicking our links with Europe will inevitably involve complications on this front.
Bitcoin, and the blockchain system underpinning it, are appealing to UK businesses trading across Europe. The safety and security of the payment method, as well as its comparative speed when compared with traditional banking, means that it could even help to improve many businesses' levels of cash flow and their overall stability. Crucially though, it could see businesses trading in a smoother way – as Bitcoin operates independently from government control, which is currently in a state of flux and looks like it will be for some time.
3. It could see fewer currency fluctuations
On December 10, when Theresa May made the surprise announcement that she was delaying the parliamentary vote aiming to ratify her proposed deal with the EU, sterling fell to its lowest level against the US dollar for 20 months and its lowest against the Euro since August 2018.
This comes after a period of steady decline in value precipitated by the referendum result. With a volatile currency market very much the order of the day with sterling, the fact that Bitcoin is not directly linked to the fortunes of any fiat currency has some very obvious advantages. So for UK businesses currently in the dark about the economic future, Bitcoin could be the light at the end of the tunnel
4. It could encourage international businesses to stay in the UK
One of the earliest fears following the referendum result was that many businesses in the financial sector and beyond would have to move their operations away from the UK. The fact that one of Brexit's key advocates, Jacob Rees Mogg, has launched a second Irish fund is an irony that has not been lost on many people.
A key issue here is passporting. This is an arrangement through which trading, lending and insuring can be done across Europe by businesses in the UK. Unless an agreement can be reached, UK businesses will need to have a physical base in every country where they want to operate. Or they could use Bitcoin instead – and do businesses without the need to relocate.
Summary
Back in 2009, when the idea of Bitcoin was first introduced, it was presented as a truly democratic entity free from government interference. This might have seemed an uncertain prospect back then, but today the tables have turned. With the UK government at loggerheads and sterling at breaking point, Bitcoin is comparatively flourishing – and increasingly appears like a more robust alternative. So as turmoil continues and each day seems to bring more questions than answers, it does seem like anything could be possible. But as to whether everything really is in perfect alignment to bring Bitcoin into the mainstream, we'll just have to wait and see.