Senior Foreign Office minister Lady Warsi resigned today over the government's "morally indefensible" policy on Gaza.
Lady Warsi was the first female Muslim in the cabinet when she became Tory party co-chairman after the 2010 general election. In 2012, she was demoted from the cabinet to a middle-ranking Foreign Office post and was made minister for faith and communities.
With deep regret I have this morning written to the Prime Minister & tendered my resignation. I can no longer support Govt policy on #Gaza

— Sayeeda Warsi (@SayeedaWarsi) August 5, 2014
In her letter of resignation, Barnoess Warsi said: "My view has been that our policy in relation to the Middle East Peace Process generally but more recently our approach and language during the current crisis in Gaza is morally indefensible, is not in Britain's national interest and will have a long term detrimental impact on our reputation internationally and domestically."
London Mayor Boris Johnson said he had "great respect" for Lady Warsi. "I think she will be back as soon as possible. My view as mayor of London is that it is not the function of the mayor to get deeply embroiled in this," he said on LBC radio's Ask Boris phone-in.
Here's her resignation in full: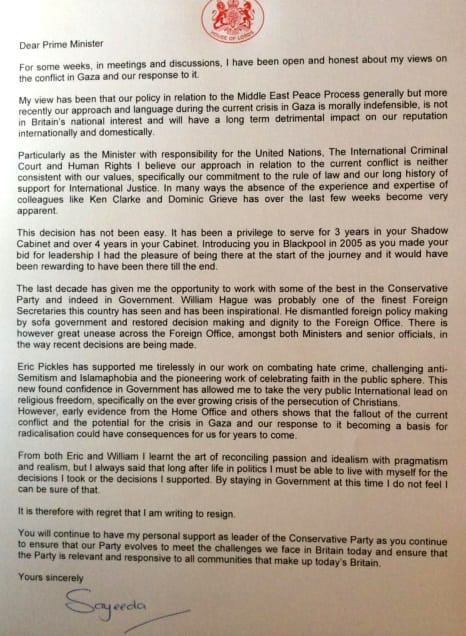 Now read: