Alessio Rastani on the stock market crash predicted this month
A month ago, a chart that showed two lines (like the one below) was being passed around trading desks.
This little innocent chart was making traders nervous.  
Why? Because the chart made a shocking prediction about what will happen to stocks after January 14… take a look: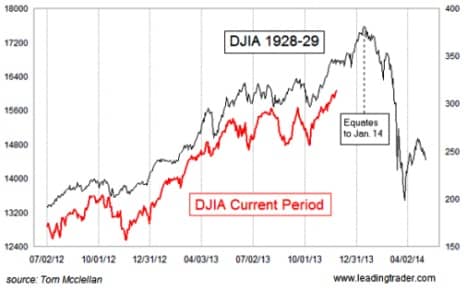 The above chart certainly looks frightening, because it indicates that we are heading towards a 1929-style crash in January.
The recent pattern of stock price movements (shown in red) look a lot like what came just before the 1929 peak.
You're probably asking yourself why would anyone take such a prediction seriously?  After all, charts similar to the one above, all predicting a 1929 crash, have been appearing regularly in the past five years. All of them have been wrong.
The answer is that the above "scary" chart was published by the respected and well known chart analyst, Tom McClellan. McClellan is a familiar name to traders, specially since he created the "McClellan Oscillator".
Here is what McClellan himself says about the scary chart:
"There is no guarantee that the current market will continue to follow this prior pattern, but if it does continue, well then that's something worth paying attention to."
Notice that McClellan's chart points to a top on January 14. That was Tuesday. So does this mean that the market should now decline and start to collapse?  
Not necessarily. McClellan warns: 
"No one should take that January 14 date literally, since I could have slid the pattern alignment fore or aft a few days and it would still look good."
In other words, the January 14 date is just an approximation. It could be off by a few days or maybe a week or two.
The alarming fact is that since McClellan published that chart in November, the stock market has continued to resemble the 1929 market action into December and January. Take a look at this chart of the S&P 500: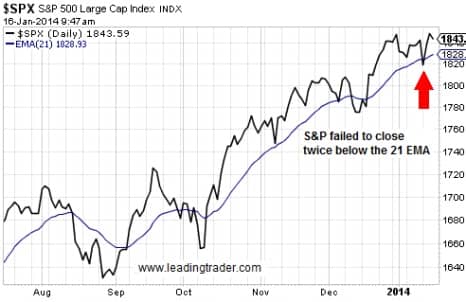 Stocks made a slight pullback in December before rallying into Christmas and New Year.  So far so good. But McClellan's "doomsday" January top has not yet materialised.
Even though stocks sold off on January 13, stocks managed to bounce back the next day and make back their losses.
If there is going to be "top" or sell off, then the first thing we need to see is for the S&P index to close two consecutive days below its 21 moving average (blue line on the chart).  So far this year, stocks closed only once below the 21 MA.
With great respect to Tom McClellan, I do NOT think we will see a 1929-style crash in the markets in January or even indeed in the first half of this year.
Don't get me wrong. As a trader, nothing would excite me more than a sudden market crash, but sadly I don't think we will see any fireworks until maybe May or June.
The first reason is that stocks have historically performed positively from January till beginning of May. I don't expect this seasonal pattern to change this year either.
The second reason is that market crashes are usually accompanied by a sudden rise in interest rates. And interest rates have been falling this month, not rising.
Our columnist Alessio Rastani is a stock market trader at LeadingTrader.com. He is also the self-proclaimed trader who shocked the world by declaring live on BBC News that he goes to bed "every night dreaming of the next recession" and that "Goldman Sachs, not the governments, rule the world". He's a controversial figure, not least because he's a self-taught non-institutional trader with no FSA license. But he certainly isn't shy about sharing his views. Do you agree with his words? (His words are his own and not endorsed by LondonlovesBusiness.com.)
Now read this e-guide: