To say that 2020 has been a year of uncertainty for retail would be an understatement but the advent of coronavirus isn't the only challenge facing retailers on the high street.
Even before COVID, retail was facing tough economic times, with 2019 seeing the slowest spending growth since the last recession. Add to that the trend for consumers to do their buying away from the high street and we can see that the future for bricks and mortar retail looks anything but rosy.
However, this doesn't mean to say that there isn't any opportunity for growth or acquisition and as Warren Buffet wrote way back in 2008 "Be fearful when others are greedy, and be greedy when others are fearful."
Turnaround specialists see value in the high street
Whilst it is true to say that COVID has caused major problems for global retail in many cases this is a symptom rather than a cause.
Retailers who were struggling to adapt to the new world of online shopping were always going to struggle when a new 'black swan event' turned up.
Debenhams was a major feature of many high streets for decades but failed to adapt to the changing landscape and by 2019 simply couldn't avoid falling into administration.
The sale process for the group is now ongoing and with rumours of Hamley's owners Reliance Retail being interested, it seems that there is some latent value that is proving attractive.
The 'buy-out-of-administration' process isn't new of course, this has been happening for years but perhaps what is new is the ability to take over a very traditional company and completely change it's model to an online one.
Serial entrepreneurs Tai Lopez and Alex Mehr have developed an operating model that specialises in unearthing hidden value on the high street and moving it online.
Their Florida based business Retail Ecommerce Ventures (REV) has been snapping up companies stateside and turning them into unlikely internet stars.
Moving online – how retailers can fight back
With so many online competitors, retailers can be forgiven for thinking that the move to an online model is a lost cause but nothing could be further from the truth.
In the case of REV the switch is proving to be very profitable indeed.
When they purchased the assets of the failing Dressbarn brand back in 2019, REV set about completely redesigning the way that the company interacted with its customers.
With a totally redesigned website and the latest online outreach methods, REV used the experience of its founders (Mehr set up dating site Zoosk and Lopez is a Youtube guru) to speak directly to customers both old and new.
This fresh approach has certainly paid dividends and Dressbarn is now reporting a sales increase of 165%.
The REV stable now includes many well-known and loved U.S. brands such as Pier 1, Farmer's Box, Modell's and Franklin Mint and the company is still on the acquisition trail.
"There's a shift in the world and that shift is from brick and mortar to e-commerce. I'm not sure all the old guard [bricks and mortar retailers] will be able to handle the new world," Lopez said.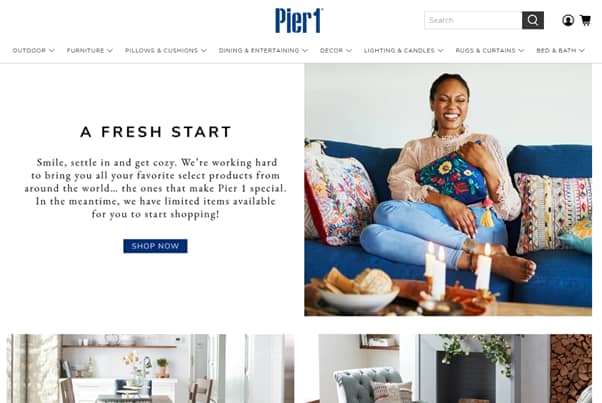 Using modern fulfilment to reduce costs
One of the biggest drains on any retail company's cash is the cost of servicing the physical stores.
A central aspect of the REV approach is that they 'lean' the order fulfilment process by using modern methods and services such as Shopify and Amazon marketplace.
Mehr and Lopez are agnostic about what services they use, simply choosing the best method that proves to be most convenient for their customers.
As Lopez explains, "Our ultimate goal is how can we get people what they want in the way that's most convenient for them…If that means we need to list our clothing on Amazon's or Walmart's marketplace, so be it."
This leaning of the supply chain means that retailers can reduce staff and establishment costs markedly and this could be the difference between survival or administration in many cases.
Could this happen in the UK?
With a huge amount of business debt and an uncertain economic outlook, it is fair to say that there could well be a large number of targets in the UK for a similar operation.
Former high street superstars Clark's shoes, T.M.Lewin, Victorias Secret and New Look have all had their troubles and this is just the tip of the iceberg.
By end of June 2020 more bricks-and-mortar retailers had gone into administration than in the whole of 2019 and this trend looks likely to continue with the furlough scheme coming to an end.
So we can see that the business environment is ripe for turnaround activity.
Will we see more activity from companies of the likes of REV and Reliance Retail?
It certainly seems so with a ready supply of distressed companies on the high street and any number of creative and efficient ways to reinvigorate them it looks like the future for the turnaround sector is bright.