Time to start saving up?
Crikey. Apple has released its price range for the Apple Watch, and the most expensive edition will cost $17,000.
The cheapest one will be $349 – not exactly bargain basement, but almost 49 times cheaper than the top of the range.
Why the enormous disparity for the new smartwatch?
It all comes down to the edition, materials and strap you choose.
The $17,000 version is thought to be the 38mm Apple Watch Edition with an 18-carat yellow gold case and red buckle strap, according to Time magazine.
This comes with a retina display and contains sapphire crystal. It's pictured below.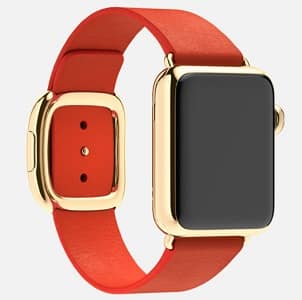 There are more than 38 models with a range of straps and features, grouped into three collections: Watch, Watch Sport and Watch Edition. You can view them all here.
The cheapest, at $349, will be the 38mm Apple Watch Sport.
The watches will go on sale on April 24.
Bye bye, battery
But here's the rub: battery life will only last on average 18 hours, or just two-thirds of a day, the Apple website says.
And if you're using your smartwatch for talking on your phone, it'll only last three hours.
Larger models could last a little longer, and battery life can be extended if you turn off all the features, apps and so on (putting it into "Power Reserve" mode) – although that rather defeats the point of having a smart watch.
The watch will take 1.5 hours to charge from 0% to 80% and 2.5 hours to 100%.
So what does the watch actually do?
>> It syncs up with your iPhone – obviously. This means it'll buzz or flash when you get a message or notification.
>> You can talk to people through your watch, like it's a phone and you're James Bond.
>> You can send little doodles, photos and "heartbeats" from Apple Watch to Apple Watch – presumably a bit like a more romantic version of the old Facebook poke.
>> You can customise the face with the apps and features you want.
>> You can use it to track health and body metrics and for work-out monitoring, and you can use it to set fitness goals. It'll send you reminders to help you achieve them.
>> Apple says on its website: "It's more than a tool. It's a true expression of your personal taste." Yes, indeed, Apple. A $17,000 expression of real taste.
Good investment, or time to look elsewhere for a watch? Let us know in comments below.