We ask Deezer's UK boss how he plans to blow the new cash pile
Deezer's not the biggest player in music-streaming space. There's iTunes and Spotify making more subscribers sing and dance to its tunes. Yet, Leonard Blavatnik, owner of Warner Music and one of the richest Londoners decided to invest $130m (£81m) in the France-based company.
Why? The company's numbers might have been some impetus:
Profitable since 2010, Deezer posted a 50m euros turnover for 2011, against 14m euros in 2010, and 6m euros in 2009. The service has two million paid subscribers, seven million active monthly users, 26 million registered users, and 20 million music tracks. Also, the company has tie-ups with Facebook and Orange to stream music.
Deezer's end goal is to end up with 5% of the global music market by 2016 and expand into 76 countries making the roster 160-countries strong. How will it do that? We asked Mark Foster, managing director, Deezer UK:
What do you plan to do with the new investment?
Continue to invest in product innovation and editorial recommendation, to make our customers' experience the most enjoyable. We take an "Ease of Access, Ease of Discovery" approach to help people that may have been lost to piracy or no longer consume music to re-engage, to discover new artists they will fall in love with, either through recommendations by our editorial team or their friends.
Secondly, we plan to launch a "freemium" service in the near future, to attract lots more potential customers and eventually convert them to the subscription service.
And thirdly, we will be investing in our own marketing, to educate the public about streaming, how easy, fun and legal it is to use, and to establish Deezer as a trusted mass-market brand
But why would users choose you over Spotify? How are you different?
The two main points of difference are a) that Deezer is a web-based or browser-based service, meaning that there is no client software to download to your computer, so it is easy to access from any device, anywhere. Even if you don't have a signal, tracks are available offline on you phone or you're behind a firewall at work, Deezer is available to all.
Also, no one else in the market has an editorial-based platform like we do. We have real people who make recommendations of five new albums per week across 12 genres, as well as making selections from the 100 million or so playlists that have been made by our users. All this has proven to be a great way for people to stay in touch with and discover new artists, and for artists to find new fans.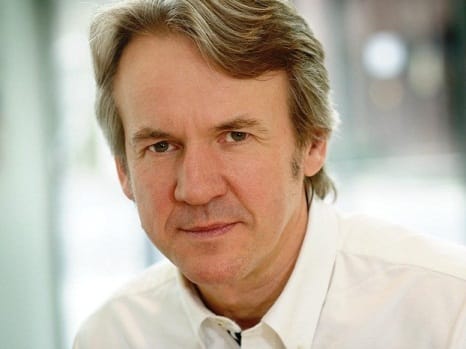 Is there a war over getting exclusive rights for artists that makes people choose Deezer over Spotify? Could you give a few examples of artists that are just on Deezer?
No, there is no war.
A few artists do not release their repertoire to any streaming services for the moment. It is still a relatively new model of distribution, so some are waiting for streaming services to achieve sufficient scale to generate greater revenues before they are convinced.
As far as artists that appear on Deezer but not on other services are concerned (or vice-versa), I can't think of more than perhaps The Black Keys or Pink Floyd. So it is not usually a choice between streaming services.
In any event, our licences are with the labels and publishers, not directly with artists. I think this is a bit of a non-issue, really…
What's your revenue model?
There are typically two in each major market. Our stand-alone service, which people can trial for free for two weeks via Facebook or simply sign up to on the web, is £4.99 per month for pc-only, or £9.99 for full mobile access (the free app is available for all mobile devices, tablets, etc).
Alternatively, if you are a subscriber to the Panther tariff on Orange, Deezer can be included in your monthly subscription.
There's a common allegation that music-streaming services cuts artists a raw deal. What are your thoughts?
That it is absolutely not true. We negotiate in good faith with all record companies and publishers based on established market rates for streaming services, to ensure that all musicians and composers get paid a fair rate for their work.
There is a lot of misunderstanding about streaming revenues, partly because the model is still so new. But the good news is that rather than being paid once for a CD sale or a download, with streaming the rights-holder and the artist is paid every single time a track is played. After years of revenues has been lost to piracy, this has to be good news, and we are contributing to the recovery of the music industry, reversing the decline of the last ten years.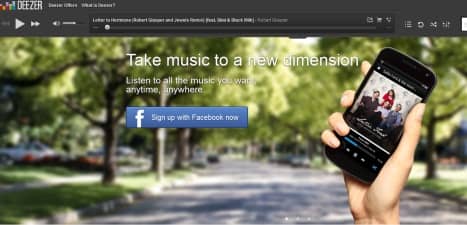 How will you generate revenue for the music industry?
Not only are we offering a legal, revenue-generating alternative to piracy, our strong editorial approach, making it easier for people to discover new music, is bringing back people who have stopped buying music altogether, perhaps because they are less in touch with the music scene, who the new artists are, etc, they don't go to gigs any more, they have no means of sampling new music and so on.
It also makes this discovery process fun – we're not just a techie platform, it is fun and easy to discover and share music with your friends and via your friends on Deezer.
Can you tell us more about your deal with Facebook and Orange?
We are a fully-integrated streaming partner with Facebook. This means that, if you allow it, you and your friends can see what you are listening to on your ticker, and if you have a Deezer account, you can listen to the same track in one click.
If you don't have a Deezer account, you will be offered an instant, no-strings-attached 15-day free trial. You don't even have to sign in.
Our partnership with Orange is a great way for us to reach the mass-market and for them to offer their pay-monthly customers the full Deezer service.
As more and more people prioritise the access to music on their mobile device rather than buying CDs or downloads, this puts 20 million tracks, which they can even listen to when they don't have a signal, literally in the palm of their hands.
How will 4G help with expanding your userbase?
We're excited about 4G. It will provide even faster delivery to customers for richer content and allow even more innovation.
Great, thanks for your time Mark!
You need to read:
Will Rara.com be bigger than iTunes?
Songkick founder Ian Hogarth on making money in music and east London tech scene trends
Caprice: "People try to screw me over every day"