Vladimir Putin warned this week that "unparalleled" hypersonic missiles are read to be used for action and that Russia has a large number of "thermobaric weapons."
The thermobaric weapons which include the TOS-1 "Buratino" and TOS-1A "Solntsepek,"  are very capable of "melting armies" and are one of the most dangerous weapons on the battlefield.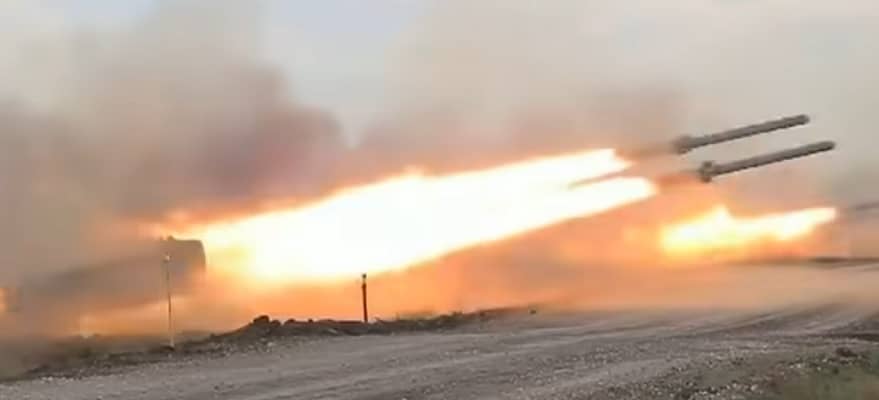 These weapons can launch a barrage of fuel-air explosives which could melt an army within seconds as a vaccum follows the explosion which is so deadly it can rupture vital organs.
The Sun newspaper reported that Ukrainian sources shared videos of the thermobaric weaponary heading towards Ukraine's border.
Sebastian Roblin, a military expert, writing for 19fortyfive.com, said, "A TOS-1 rocket barrage will wipe out everything within the 200-by-300m blast zone."
PhD student at the Department of War Studies at King's College London Rob Lee said thermobaric MLRS and other military equipment are entering Ukraine from the Belarus border.
He added, "The location suggests they will take part in an operation towards Kyiv. Note the circle markers."
The weaponry could easily destroy several city blocks with just one hit within seconds which would cause horrific damage as the TOS-1 Buratino thermobaric warhead creates severe waves of pressure.
Russian forces have reached the capital Kyiv and gunfire and heavy "rocket strikes" has been heard near to the government district.
The Ukrainian Defence Ministry warned the "enemy" in is the Obolon district in the capital which is five miles from the centre of Kyiv.
Ukraine's foreign minister Dmytro Kuleba said "horrific Russian rocket strikes" have hit Kyiv, he added, "Last time our capital experienced anything like this was in 1941 when it was attacked by Nazi Germany."
Last night Russian forces tool control of Chernobyl, near Pripyat, around 60 miles from Kyiv. Hostomel military airport which is near to the capital has seen intense combat thus far.