The third poll in a new monthly series by Savanta ComRes gives the Conservative Party a six-point lead in the headline Westminster Voting Intention.
The poll has the Conservative Party on 43%, three points higher than they achieved last month, while the Labour Party are on 37%, up just one point. These gains have handed a disadvantage to the Liberal Democrats who have slumped to just 6%. Other parties, including the SNP, Plaid Cymru and Northern Irish parties, total a combined 14%.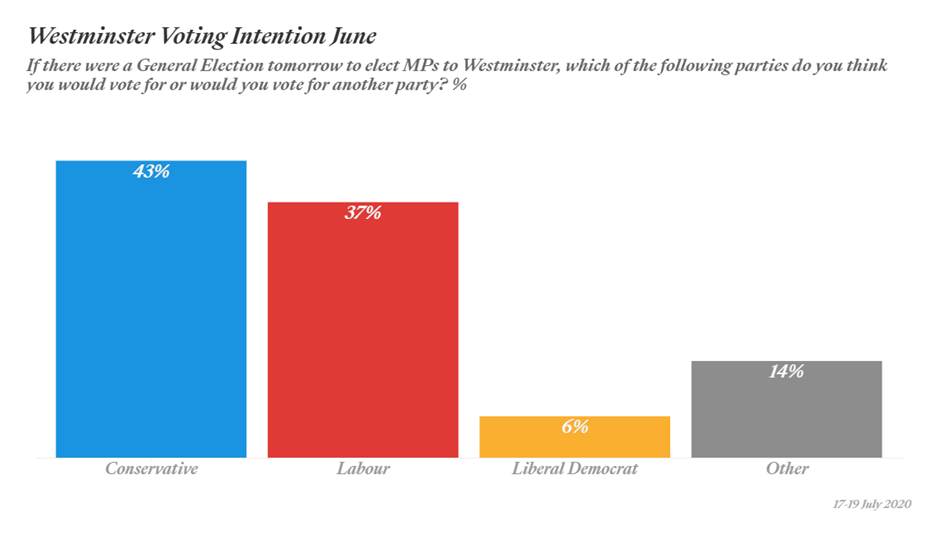 Boris Johnson's personal approval ratings have continued their long decline since May's scandal involving Dominic Cummings. The Prime Minister's favourability ratings hit a new low this month as he dropped 4 points and tipped into negative territory (-2) for the first time ever in the Savanta ComRes Political Tracker.
Meanwhile, the ratings of other key figures within his cabinet have also faced a further slight decline: Dominic Raab's have dropped a further two points to 0; Matt Hancock's have dropped five points to -3; and Priti Patel's remain particularly low with a drop of three points to -16.
The exception to this rule is the Chancellor of the Exchequer, Rishi Sunak, whose ratings have bounced upwards by four points to +30 following his summer economic update a fortnight ago.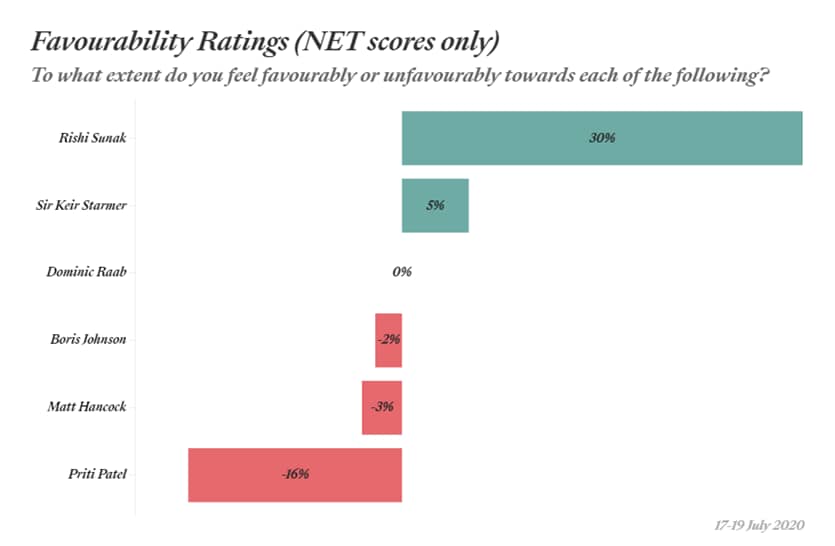 In what is likely to be some good news at Labour HQ, Sir Keir Starmer's favourability rating has seen an uptick of four points to +5. This positivity is also reflected in the Best Prime Minister ratings, where Sir Keir Starmer has been on the good-end of a six-point swing in the ratings against Boris Johnson.
While Boris Johnson still leads on this with 40% to Sir Keir's 31%, it still reflects a positive trajectory for the Leader of the Opposition since we last reported in June.
In his first 100 days as both leader of the Labour Party and Leader of the Opposition, Keir Starmer is adjudged to be performing well by a ratio of 2:1 against those who believe he is performing poorly. In fact, among 2019 Labour voters, over two thirds (69%) believe his performance as leader of the Labour Party has been good to date.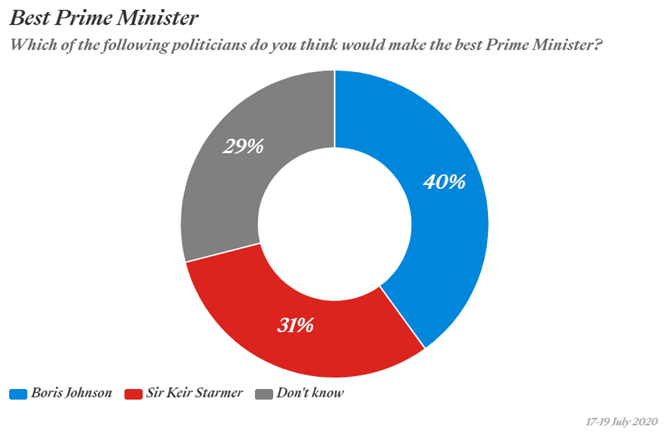 Methodology: Savanta ComRes interviewed 2,085 UK adults online from the 17 to 19 July 2020. Data were weighted to be demographically representative of all UK adults. Voting Intention is also weighted by 2019 past vote recall, EU Referendum past vote and likelihood to vote. Savanta ComRes is a member of the British Polling Council and abides by its rules.