And they'll be turning red, too
We learnt all the way back in December 2013 that Barclays had decided to discontinue its sponsorship of London's Boris Bikes, which began in 2010 with the launch of the cycling project.
And who can blame the company, really, seeing as the bikes are known by all as "Boris Bikes" rather than "Barclays Bikes" (as marketing execs at the bank had no doubt hoped).
Could another bank have more luck?
Santander is apparently hoping so.
Sky News is reporting that Santander UK is on the verge of signing off a £50m deal to sponsor the 10,000 rent-and-ride bicycles stationed around the capital.
A source told Sky News that Santander UK could pay up to £7.5m a year for seven years – and we could hear official confirmation from Transport for London (TfL) as soon as next week.
A smart decision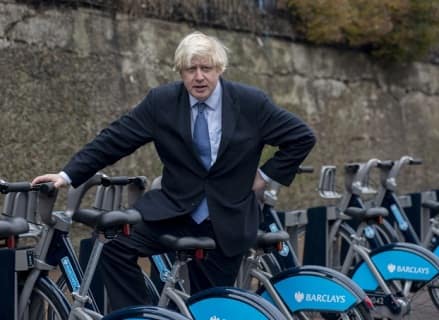 It's a deft move, given the timing.
Boris will only be mayor of London until the 2016 mayoral election, when he will almost certainly stand down, given that he is standing for the safe Tory seat of Uxbridge and South Ruislip in this May's election.
That means that people might stop peddling the "Boris Bikes" moniker over the next couple of years.
Could they become "Satander Cycles" instead, over time?
It's not outside the realms of possibility.
It's also a pretty canny move because Londoners have become so used to seeing the bikes everywhere that we're now more or less visually immune to the Barclays turquoise splashed all over them.
Santander will obviously recolour all the bikes in the red of their brand, which could re-grab everyone's attention again, and so draw more awareness of Santander's sponsorship than Barclays currently have.
Bye bye blue
It was looking like the bikes were going to turn red whatever happened in the battle for sponsorship.
Santander have been fighting it out with Coca-Cola for the sponsorship.
Looks like the world's biggest drinks manufacturer will have to be content with turning the London Eye red, for now.
It's not the first time Boris Bikes have changed colour. Can you remember why they went yellow in March 2014?
And when the bikes grew tails last summer?