Will you buy one? Tweet us @LondonlovesBiz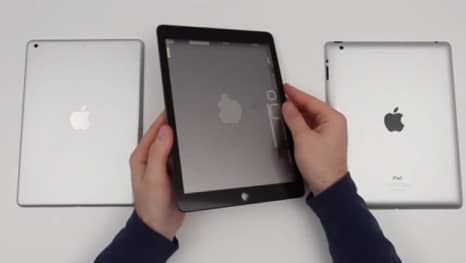 Source: Unbox Therapy
Apple aficionados, mark your calendars for the new iPad 5 is expected to launch on October 15.
Now Apple sold a record-breaking nine million new iPhone 5s and iPhone 5c models, just three days after the launch on September 20.
But the iPads weren't as hot as thought as Apple shipped a lower-than-expected 14.6 million tablets in the second quarter last year, down from 19.5 million in the first.
So what will it take for Apple to smash iPad sales?
Here's a round-up of features you can expect from iPad 5:
1. Space gray and silver iPad 5 casing with black front bezel
Online tech TV channel Unbox Therapy has got its hands on a "space grey" and silver version of the iPad 5 which comes with a black front bezel.
Check out the video below:
2. iPad XL
Rumour has it that the iPad 5 can be 12.9inch in size. The larger model is expected to have a "widescreen aspect ratio" that will improve video quality.
3. Home button
From news stories about people unlocking phones with their nipples to the feature being unresponsive, the Touch ID home button was definitely the highlight of the iPhone 5. Analysts expect the iPad 5 will follow suit.
4. Launch date: 15 October or 22 October
French tech site MacGeneration claims that Apple's "special event" is to be held on 15 October. The Guardian's tech writer Charles Arthur suggests that as Apple launches products usually on Tuesdays, the iPad 5 will be unveiled either on 15 October and 22 October.
5. Price: £399 – £739
In order to give stiff competition to Android rivals, Apple's expected to keep prices in the same bracket as the current iPad. The16GB-128GB iPads with Wi-Fi only are expected to cost between £399-£639. iPads with Wi-Fi + 4G for the same storage band could be bought for £499-£739.