From the man who told the BBC that "Goldman Sachs rules the world"…
There seems to be some weird similarities between the recent action in the stock market and the way it acted right before the crash of 1929.
A month ago I mentioned how Wall Street traders were passing each other a "scary chart" with two lines on it. The chart seems to predict a 1929 style crash – see below: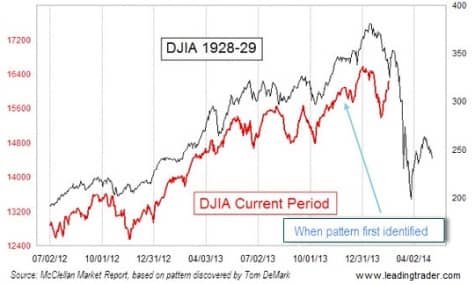 This pattern was first identified by chart analyst Tom Demark. At the time it caused some traders to simply roll their eyes and walk away. It's very hard to take something like this quite seriously.
Even Tom Demark commented: "Originally, I drew it for entertainment purposes only," he said—but no longer: "Now it's evolved into something more serious."
Mark Hulbert said in the Wall Street Journal: "One of the biggest objections I heard two months ago was that the chart was a shameless exercise in after-the-fact retrofitting of the recent data to some past price pattern. But that objection has lost much of its force…"
My own verdict on the scary chart?
As a trader, I would like nothing more than the excitement of a major crash in the markets. However, despite the extremes in margin debt levels and hyper-bullishness of investors who think this market will continue going higher, I doubt such a devastating crash will happen.
Corrections of 10 to 20% are far more common and likely than a 50% crash in the markets like we had in 2008 or 1929.
In any case, the validity of the scary chart will probably be erased once the stock market goes above the December peak at 16,588.  If we go above that level, we can expect market bulls to have control and for the market to rally higher, potentially to 18,000 by May 2014.
After May 2014 I do believe a 15 to 20% correction will occur, which most likely will drop the markets to just a little below where we are now.
In the meantime, I am sure there will be further speculation and articles like this about similar scary charts…
Alessio Rastani is a stock market trader at LeadingTrader.com. He is the self-proclaimed trader who shocked the world by declaring live on BBC News that he goes to bed "every night dreaming of the next recession" and that "Goldman Sachs, not the governments, rule the world". He's a controversial figure, not least because he's a self-taught non-institutional trader with no FSA license. But he certainly isn't shy about sharing his views. Do you agree with his words? (His words are his own and not endorsed by LondonlovesBusiness.com)