We reckon it would be quite a laugh to work at the Advertising Standards Authority.
Imagine being the official who has to decide whether or not it is offensive for people to get all naked on your tellybox to advertise… ham. Would such a sight provoke in the public a profound propensity to pork improperly? One can only dream of the type of conversations at Wednesday's 10am meet between ASA execs to decide whether or not such a circumstance may arise.
And how many times do you get to write such weighty, world-weary lines in your company reports as: "It implied that it was acceptable to feed Christmas pudding to dogs. We didn't think the ad implied it was acceptable to copy this behaviour, as the dog did not eat the pudding."
So, raise your mugs of tea today to the ASA, the tastemakers of our TV nation, and enjoy the most-complained about ads on TV (or not enjoy them, as the case may be):
1.       Gocompare.com: 1,008 complaints
Ah, Gocompare.com, why must you taunt us so? And Stuart Pearce – WHY, MAN? For the love of god, WHY?
The ASA doesn't mention why this ad received so many complaints, but we may safely deduce it was the sheer irritation it provoked, which Gocompare.com itself is happy to capitalise on.
It has created a series of videos from its "Gio Compario" YouTube channel (named after the adverts' rotund operatic protagonist) that irked viewers' reactions to watching Gocompare.com ads. Check out this one, which has racked up around 57,000 views.
We all know that these insurance companies and comparison sites ingrain irritating tunes and characters in our heads so we remember them. But, sadly, the ire they produce is not enough to get them off our screen. The ASA was unable to uphold complaints as it "ruled that the ad was not offensive, irresponsible or harmful", nor "explicit or gruesome".
Even if the advert may want to make you do gruesome and harmful things to its creators.
2. Gocompare.com: 797 complaints
Wow, Gocompare.com's creative agency must be breaking out the bubbly tonight. On a similar theme to the above, the second-most-complained-about ad on TV last year this time shows our beloved Gio Compario rubbing Sue Barker up to the wrong way:
The ASA did not uphold the complaint, with one of the reasons being that "the main character was shown unharmed at the end of the ad". Well, that's good to know.
3. ASDA Stores: 620 complaints
ASDA's controversial Christmas ad raised plenty of people's heckles because it was widely deemed horribly sexist. And it's hard to disagree – the image of the mother of the family doing EVERYTHING hardly creates a positive role model for everyone else watching.
The ASA, though, did not uphold complaints. "We rejected complaints that the ad was offensive to single fathers or men who played a primary domestic role," the organisation stated. "We thought the ad reflected ASDA's view of the Christmas experience for a significant number of their customers."
That may be so, but we can't help but feel that adverts have a responsibility to create images that lead the way, rather than follow it. Ho hum.
4. Channel Four Television Corporation: 373 complaints
Channel Four was always treading a thin line in its prolific branding of all things "gypsy", as the term itself is considered racist by some groups. So it's no great surprise that the ASA received complaints about this multimedia campaign that accused the ads of being "offensive", "racist" and that they "unfairly denigrated and degraded Gypsy and Traveller communities".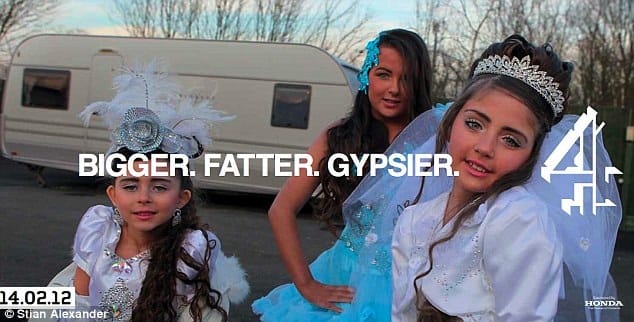 The ASA's upheld the ruling in part, saying: "After a request from the Independent Reviewer of ASA Adjudications to re-open our investigation, we agreed that some of the images together with the accompanying text were offensive and irresponsible."
5.  Kerry Foods: 371 complaints
That's right – it's the moment you've all been waiting for: the naked ham ads.
Our advertising columnist Steve Henry might have panned the general hamminess of the campaign, but the saucy sausage implications have certainly worked for salacious viewings. The advert has racked up almost 500,000 views on YouTube – though the version below shows less views, as you have to sign in to confirm your age to view the original upload from the company itself, and we decided to save you the bother.
The ASA upheld the ruling in part, not because of the naked frolicking through fields and G-string-less string-instrument playing, but because it "agreed with complainants that referring to the product as "Britain's only ham…" would be interpreted as meaning the product was British in origin, when that was not the case."
6. Paddy Power, 311 complaints
This ad was widely panned as being offensive to the transgender community, which they certainly seem to us. Running through images of women and guessing whether they are transgender? Bit playground and pointless and outdated, isn't it?
The controversy seems to have worked in the company's favour though, as the ad has totted up almost 700,000 views on YouTube.
But because Paddy Power's YouTube channel was registered in Ireland, it was outside the ASA's remit to ban it. The ASA did, however, uphold a smaller number of complaints that were made about the same ad when it ran on TV.
7 (joint place). Kellogg's Marketing and Sales Company: 234 complaints
The trouble is, the really DO taste so good. And you can't help but think that the 234 people who complained about a snake being in an advert for Crunchy Nut were just a little bit, well, nutty themselves.
The ASA, as you might expect, did not uphold the ruling, as it ruled the advert was not "unduly distressing".
7 (joint place). WM Morrison Supermarkets: 234 complaints
Is it "irresponsible and harmful" to show a dog being fed Christmas pudding, even if that dog doesn't, in the end, eat the pudding? The ASA ruled it was okay to show this cute lil' pup being offered some festive treats, despite viewers complaining it was not "acceptable to feed Christmas pudding to dogs", because "the dog did not eat the pudding. Also dog owners would be aware of the toxicity of grapes, raisins and other foods to their pets."
9. Kayak Software Corporation: 189 complaints
This rather peculiar advert is still among the most popular in this li
st in sheer YouTube views, racking up 800,000. It shows a brain surgeon fiddling about in a man's brain to get him to find travel deals. The ASA part upheld it as thought it "may cause distress without justifiable reason especially to viewers who had been affected by the type of operation depicted in the ad."
10. St John Ambulance: 144 complaints
The ASA decided not to uphold complaints about this ad. Although it agreed it was "distressing" in its portrayal of a man recovering from cancer, only to die choking on a piece of food, it ruled the message was important enough to outweigh the distress caused.
Good call, we say – the key point that "relatively simple techniques of first aid could avoid sudden tragedy", as the ASA put it, is indeed a vital one that many more people need to take note of.
relatively simple techniques of first aid could avoid sudden tragedy