Crude oil prices are still under negative pressure for the second consecutive day as prices touch the 200-day simple moving average support at $79.50 per barrel during early European trading hours on Tuesday, before rebounding to trade at $80.45.
Anticipations of a rise in US crude oil inventories add to the mix, with data set to release on Wednesday.
However, the most significant factors hindering Crude Oil price movements revolve around the Saudi Arabian net foreign assets dropping by up to $16 billion in July, marking the largest decline since the emergence of COVID-19 in 2020.
This follows Saudi Arabia's decision to cut crude oil production by one million barrels per day until September, in addition to its share as part of the OPEC+ alliance's cuts that began in May. Reserves of net foreign assets have plummeted to their lowest levels since 2009, with Saudi Arabian Central Bank data indicating current reserves stand at $407 billion.
I anticipate a potential increase in Saudi Arabian net foreign reserves in September, post the distribution of the first performance-linked dividends from the giant government oil company, Saudi Aramco. This move comes after Aramco's announcement earlier this month that it plans to distribute performance-linked dividends over six quarters, starting in Q3 2023.
This is a response to the overall financial challenges Saudi Arabia has faced due to plummeting oil prices this year compared to the previous year, along with a reduction in Saudi oil production. The country is looking to bolster oil prices through these measures.
Conversely, China has taken steps to bolster its struggling economy. Despite investor concerns about the pace of economic growth in China, potential increases in U.S. interest rates, which could weaken demand for crude oil, remain on the horizon.
Additionally, market attention is focused on the tropical storm "Idalia" and any potential threat it might pose to oil and gas production in the United States. This has led Brent crude to rise by 0.8%, reaching $85.13 per barrel, surpassing the $85 mark it had tested earlier in the day.
Meanwhile, U.S. crude has gained by 0.6% to reach $80.38 per barrel. In my opinion, today's energy market focus will center on China's measures to support its economy and the trajectory of tropical storm "Idalia" as it heads toward Florida. This will determine whether Brent crude can regain momentum above $85.
News agencies report that the strength of "Idalia" is increasing as it approaches Cuba. I believe its most likely impact will be a power outage lasting one or two days, which could support short-term oil prices.
This is especially true considering the soft economic recession scenario in the U.S., which has boosted energy markets despite the Federal Reserve's firm stance on interest rate hikes. Oil prices have remained above $80 per barrel, buoyed by declining oil inventories and OPEC+ supply cuts. I also anticipate Saudi Arabia extending its voluntary oil production cut of one million barrels per day until October, as the kingdom seeks to provide further support to the market to make up for its losses.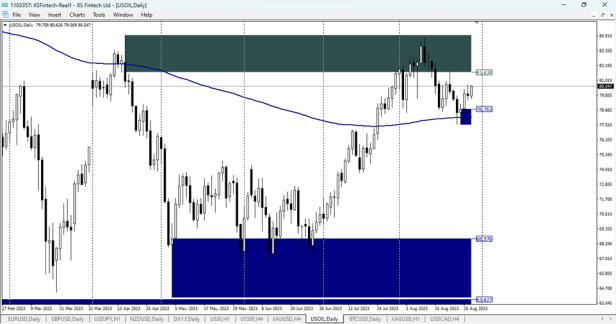 The Oil price chart on the MT4 platform by XS.com
From the above chart, it's evident that a clear breakthrough of the 200-day Simple Moving Average level at $79.50 is considered necessary to sustain a bearish trend for oil prices. However, the double bottom formation identified on August 3rd and 17th, near the strong support around $78.60 – $78.50, will present a challenge to further downward movement.
Yet, should oil prices continue to decline past the $78.50 level, we cannot dismiss the possibility of seeing a retracement towards the lower boundary of the main descending channel, near $76.80 at the very least. The convergence between the previously mentioned support line and the upper boundary of the descending channel weakens the immediate bullish momentum for the oil price, which is currently trading around $80.38 per barrel.
In my opinion, even if the oil price manages to hold steady above the $80.00 level, the 100-day Simple Moving Average and the late August high might act as hurdles for further upward movement at $80.80 and $81.70 respectively. Aside from the technical details, the upcoming U.S. data releases this week on inflation and employment, along with the weekly oil inventory report scheduled for tomorrow, Wednesday, will significantly impact short-term movements in crude oil prices.