Vinoteca has just opened its latest outpost in Soho but we travel back to the original venue in Farringdon to get a taste of the Vinoteca emporium
There's something to be said about a restaurant that can transport you to another place and time.
Walking through Farringdon on a damp evening, wind-beaten umbrellas baring worrying resemblance to medieval maces, and puddle water making a hash of our "good shoes", my friend and I would do anything to be elsewhere.
Along comes Vinoteca. We sit down at our table for two, discard our wet outer garments and after a glass of Prosecco each, our wet feet recede to the back of our minds.
Sitting in Vinoteca, you could imagine yourself down some backstreet in Barcelona. The heavy duty fans wafting overhead, nineteenth century posters on the walls and relaxed chatter emit a certain European charm. The art nouveau signage is in warm contrast to the stark modern frontages of neighbouring restaurants St John's and Hix.
It has all the atmosphere you would want from a wine bar and despite having more obscure and interesting wines than you can shake a corkscrew at, snobbery is left at the door. This is doubly appreciated since we have come from drinking cocktails at The Zetter Townhouse, the velveteen-lined homage to pomposity.
My companion this evening is a good friend of mine who happens to be general manager of another wine-loving restaurant (which shall remain unnamed). This pushes us up a few grades in terms of insider knowledge – and she's good for gossip on fellow gastronomists.
She tells me more about the founders of the restaurant, what they're like, what they did before Vinoteca and what exactly they were trying to do with the wine bar. I get the impression of very passionate people, striving to give London something it didn't have and HUGE lovers of wine. All round good guys.
Their philosophies are working, in the main. The atmosphere is bang on, the wine shop is full of bottles at a huge spectrum of prices, and the massive mark-ups usually associated with buying wine from a restaurant are largely absent.
The venues at both the Farringdon and Marylebone have both recently welcomed new head chefs -and with this in mind we delved into the menu. And what a delightful menu it is.
The food leans towards Spanish fare with a section dedicated to Catalan nibbles. Delightfully, each dish is matched with a different wine available in 125ml or 175ml.
Having polished off our Prosecco we opt for a bottle of Touraine Sauvignon Blanc from the Loire region in France. It comes in an unmarked bottle furnished with a cardboard tag around its neck. According to the handsome little tag, the wine had been specially chosen by Vinoteca and bought from the producer in a 10-litre bag-in-box and then bottled on site, "to save energy and glass, and offer them [the wine] at a great price."
Great stuff, no complaints from me nor, I should think, from the environment. At £17.95 it was near the bottom on the price scale but certainly provided a zingy accompaniment to our meal.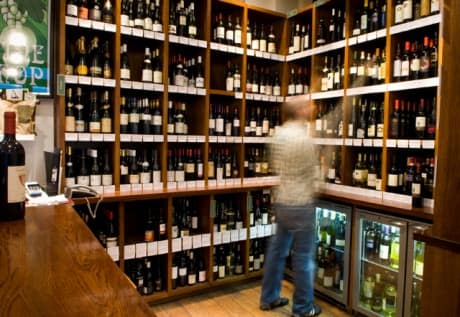 Now for the food.
We order pork scratchings to kick things off and I love them. I confess I'm not an expert in this market as I rarely order them but they were hot and had the right balance of soft and juicy verses hard and crunchy. Delicious with the white.
Next up we share Galician octopus, new potato and paprika, as well as clams, white wine and garlic sauce with bacon. They are classic dishes done well, nothing mind-blowing or surprising but very tasty. And great with wine (a theme perhaps).
The basket of fluffy bread which finds its way onto our table fulfils its calling, dunked unceremoniously into the clams' sauce – very tasty.
Second round and we opt for lemon sole with spinach and char-grilled bavette, roast garlic and shallot butter, chips and horseradish cream.
The lemon sole is very rich, partly because the serving has a huge amount of butter which overwhelms both me and the spinach. I don't adore the dish and do a poor attempt at negotiating the bones but this is my fault, not the kitchen's.
The steak dish is chunky and wholesome. The beef is medium rare on the inside with that lovely firm charcoaled exterior and the chips are hefty and perfectly cooked. My only real beef with the dish (arf arf) is the horseradish cream. It is almost foam-like and lacks the density and strength required for such an audacious condiment.
As one might imagine all of the above leaves us full, bordering on sluggish, but desert is yet to come. Despite my initial attraction to the chocolate fondant, the increasing tightness of my waistband encourages my order of chocolate truffles with hazelnut cream. Enough, but not too much.
With this order come the only disappointments of an otherwise great night.
The truffles are not truffles. They are dark chocolate filled with something that wouldn't be out of place in a Cadbury's cream egg. They have obviously been pulled from the fridge, as they have that familiar but not-so-pleasant moist sheen on their cold exterior.
At this point we are offered a complimentary glass of something. The waitress tells us it is "like port but not port" but didn't actually mention what it actually is. When we ask another member of staff he gushes about how well it goes with desert, but again neglects to tell us what it is.
I just would have loved someone to come over with a menu and point out what we were drinking, where it came from, why we should love it etc. That's what I expect from a restaurant that loves its wine and my dinner guest, who works in such a restaurant, was a tad crestfallen.
It's a strange and awkward ending to an otherwise great meal. I wouldn't hold it against the place; I love the concept and atmosphere. The food isn't going to change your life but it will go very well with the amazing selection of wine.
As for us, we drink the mystery elixir, which is indeed very nice, and step back out into the cold, wet Farringdon night.