UKIP members celebrated the party's milestone of hitting 36,000 members yesterday.
UKIP director of communications Patrick O'Flynn said: "This is more superb news for UKIP. On present trends we will overtake the Lib Dems in terms of membership figures before the general election – just as we have already overtaken them in terms of opinion poll support.
"Nigel Farage's performance and the arguments he advanced in those televised debates have certainly been key factors behind yet another UKIP membership surge.
"When Nigel asked people to come and join the people's army at the end of the second debate there were viewers from all over the country who decided to do just that."
However, the celebration was short-lived as UKIP's new immigration-focused poster campaign came under fire for being "racist".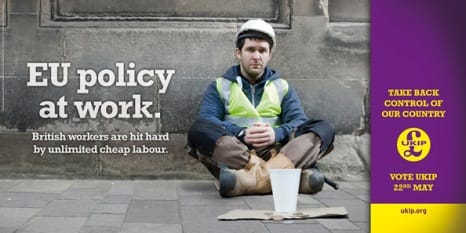 One poster shows a builder begging on the street with the tagline: "EU policy at work. British workers are hit hard by unlimited cheap labour."
Another poster reads: "26 million people in Europe are looking for work. And whose jobs are they after?"
Former Conservative minister Lord Debden tweeted: "UKIP stands for the worst in human beings: our prejudice, selfishness, and fear."
"Like a toddler kicking off in a public place #ukip gets what they want – a reaction ( and so everyone sharing their posters)…" tweeted Labour MP for Walthamstow Stella Creasy.
Now read: