London's drinkers are some of the luckiest drinkers in the whole world. Not only do they have an excellent selection of pubs, bars, and clubs to drink in, but they also live in a city that hosts some of the world's finest breweries and alcohol production facilities. Numerous beers and spirits are brewed and bottles in London, but now there's a new player in town that might have an advantage over all the others. It's the Queen, and she's brought her own gin to the marketplace.
Technically speaking, we might be exaggerating by making that statement. We have no first-hand evidence that the Queen herself has been working on the brewing or bottling of this new gin, but she's certainly given consent for her home to be used to make it. The finished product, which is known only as "Buckingham Palace," is made entirely from botanicals found in the palace gardens. In other words, this is gin made with ingredients that the Royal Family has personally approved. Perhaps that's why it's priced at an eyebrow-raising forty pounds per bottle!
While the Queen isn't believed to be as enthusiastic a gin drinker as her mother was, it's known that she occasionally drinks gin as part of a cocktail with Dubonnet on special occasions. We don't know whether or not she's had the chance to drink this new brand before approving it for public sale, but if she has, she'll probably have been pleased with the quality of the hawthorn berries, mulberry leaves, bay leaves, and lemon verbena that came from her own garden. The gin is said to be extremely smooth and is available for purchase immediately from Royal Collection shops or from the Palace's website. It will also be on offer at all events held within the ground of the Palace in the future. All profits from the sale of the mixture go to the Royal Collection Trust, which in turn funds the upkeep of all the galleries that exhibit works from the Royal Collection. It's the most extensive private art collection in the world, and the numerous properties that house it require constant maintenance and attention.
Twenty years ago, gin wasn't drunk widely in the United Kingdom. It was nicknamed "mother's ruin" and was generally associated with single women drinking alone to stave off depression. In recent years, though, the public's perception of gin has changed, and it's now viewed as a sophisticated drink. It's had such an effect on mainstream culture that there are even gin-themed games at online slots websites, such as "Gin Joint Jackpot." That could be something else the Queen has an interest in, as her Majesty has been known to enjoy the occasional gamble. Admittedly, though, her interests tend to be focused on horse racing rather than online slots. She may just have taken a step into the retail gin business, but we don't anticipate seeing an online slots website being created with royal approval any time soon.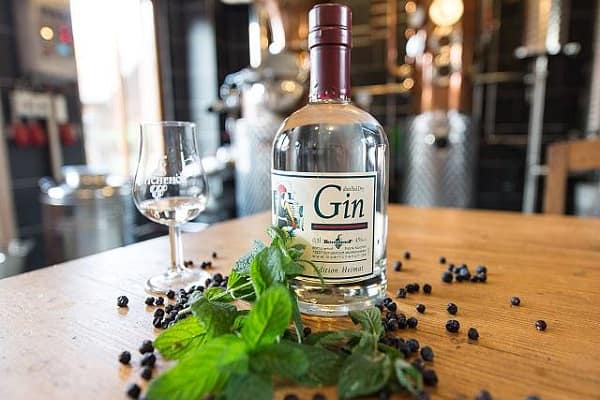 While gin is now widespread in almost every part of the UK, it's fitting that this new distillery should be based in London, because the nation's capital is where the resurgence of gin began. By early 2018 it was the drink to be seen with at parties and had even found its way into fashion magazines where it was called London's "it" drink. There were two dozen gin distilleries in London by 2018, and that number has increased since then. Not all of them turn a profit, and not all of them are likely to still be in business five years from now, but not a single one of them can boast that it was made on the grounds of the most famous royal residence in the world. If you'd like an idea of how far gin has come in a short space of time, though, consider this fact: of the 24 distilleries that were trading by early 2018, only one existed in 2008. The remaining 23 have appeared over the course of the decade that followed, fed by a rapidly increasing demand for the spirit. Between 2018 and 2017, gin sales increased forty-four percent across the country. This isn't a gin renaissance. It's a gin revolution.
While the Royal Family can (within reason) do what they want in the UK, they have the existence of the increasingly-popular London-based gin company Sipsmiths to thank for their ability to bring the "Buckingham Palace" gin to the market. Prior to 2008, it was illegal to open a small-scale gin distillery in London thanks to an ancient and archaic law known as the Gin Act of 1751, which, at the time it was signed into law, was supposed to prevent bootlegging. It was still possible to create and sell gin in London, but only on an industrial scale. Smaller companies were denied access to the market. Sipsmith's took the matter to court and won, and opened London's first new distillery since 1820 the following year. The gin genie was out of the bottle, and there was no going back.
Those of you who enjoy gin and might be interested in purchasing this latest offering might be interested to know that the "Buckingham Palace" gin comes in at 42% ABV, and your £40 gets you a 70cl bottle. According to the notes on its label, it's a perfect thirst-quencher for summer, and is best served the time-honored way with ice and a slice of lemon as opposed to any of the more experimental garnishes you may have seen in bars elsewhere. If the idea catches on, it will provide a timely boost to the Royal Trust's coffers. It's already borrowed more than twenty million pounds this year after projecting a thirty million pound loss because of the enforced shutdown of its galleries and other facilities. If it can't make that money back through exhibitions at the moment, we can think of few better ways to make it back than through selling gin.
At the moment, there's no word on how long the new gin will last, other than confirmation that it's a "limited run," and there's no guarantee that it will be replaced once it runs out. If you're a gin connoisseur or a collector, you should act quickly if you want to get your hands on some!
Please play responsibly. For more information and advice visit www.begambleaware.org