Ghanaian migrants who work in countries like the UK, Europe, Canada, Australia, and Switzerland have to send money to Ghana frequently. It is quite a hard process because a lot of hard-earned money is wasted on transfer fees and exchange rates. Luckily, Ghanaian expatriates have a grand opportunity open to them to win 04 iPhones 14 Plus and 61 Cash Prizes of GHS 1000 each as a result of doing something they are already doing! This time, ACE Money Transfer is giving prizes to both senders and receivers of remittance. The senders will receive iPhones, and receivers will be given generous cash rewards for 61 consecutive days.
ACE Money Transfer always comes up with packages and opportunities to facilitate its valued customers. Understanding the recent economic fluctuations, ACE Money Transfer has decided to dole out the grand prizes of iPhone 4 plus and other cash prizes through a series of lucky draws.
Insights about the campaign
The best thing about ACE Money Transfer is that you don't have to do anything extra to register yourself for the lucky draw. You can be a part of the campaign simply by doing something you already do. You just have to send money to Ghana through the mobile app or website of ACE Money Transfer to be a part of this campaign and win amazing prizes.
For convenience and to engage its customers, ACE Money Transfer has announced a 2-month campaign for Ghanaian expatriates. The promotion will be active from September 1, 2023, to October 31, 2023. You can increase your chance of winning the prizes by doing as many money transfers as possible. Multiple transfers can increase your chance of winning the iPhone 14 plus to a great extent.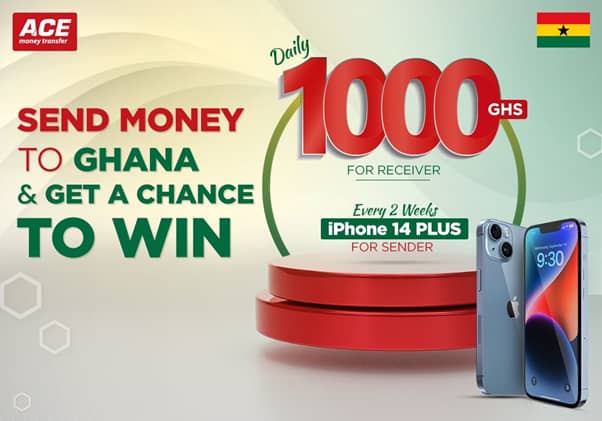 Why does ACE Money Transfer launch such campaigns?
ACE Money Transfer comes up with such campaigns and prizes for its customers at regular intervals. This is because the company realises the financial pressure on migrants and takes every step to enhance their foreign journey by removing the pressing financial concerns of Gambian expatriates. The company also realises that overseas Gambians are working very hard to support their families in Ghana. Through the remittance inflows, they are also boosting the economy of their country.
ACE Money Transfer's prime concern is to facilitate people from middle to low-income countries. It is taking steps in view of that. The current exciting campaign is up to keep its tradition of facilitating its customers in new and innovative ways alive.
To participate with optimum chances of winning rewards in this campaign, thoroughly reading its terms and conditions is recommended.
How many Ghanaian migrants live abroad?
According to an estimation from Ghana Missions abroad, it is indicated that 1.7 million Ghanaian migrants reside in more than 53 countries around the world. It represents 7.6% of the total population.
It can be observed that a large population of the country resides abroad for various purposes, which means that a great amount of people send money to Ghana. This is a good step for the country as the economies of middle to low-income countries mostly depend on remittance inflows.
The initiative by ACE Money Transfer will not only facilitate the people living abroad for their money transfers but will also contribute highly to maintaining the GDP of the country.
What advantages do families of Ghanaian migrants get from remittances?
When people from abroad send money to Ghana, the following are a few of the advantages they get.
They obtain a better living standard
The living standards in Pakistan are low on average. It is difficult for people to maintain all life resources with luxuries. Most people can hardly afford a proper meal. The declining economy of the country is making the living standards even worse. But with the remittances, the migrants and their families are able to elevate their living standards. They live a better life, and remittance inflows also help the country to grow.
They can afford a quality education
In developing countries, the situation of educational institutions is very bad. Children can not do well who have studied at average schools. Only the children from high-level schools have a chance of a bright future. But because of their high fees, most people are unable to afford it. Remittances from foreign countries help families to get a better and quality education. It saves the future of their children.
They can invest in their home country
If people send more money to Ghana from abroad, they will be able to save it and invest it later. Many people from abroad live to spend their money in their hometown. They either start a business or buy a property from it. Later, they can rent it out and earn constant money from it. Investing in the home country also builds opportunities for other people. Locals can work in the business they have started. This way, migrants also help other people to earn money.
How to increase chances to win the prizes?
After realising the benefits of transferring money to Ghana and how easy it is through ACE Money Transfer, everyone wants to participate in the exciting campaign and increase their chances of winning the prizes. You can take the following steps to attract the luck towards you.
The more money transfers to Ghana you do, the greater the chances to win the prizes
Multiple transfers in a single day are counted as a single entry. So make sure to transfer small amounts to Ghana almost daily when the campaign is live. This will increase your chances of winning
ACE Money Transfer – One of the best remittances service providers
ACE Money Transfer scores 4.7 out of 5 on TrustPilot making it one of the best remittances service providers. ACE Money Transfer takes only 7 seconds to deliver funds to Ghana from anywhere in the world with 100% security. It provides a complete package of minimum fees, the best exchange rates, and exciting prizes. ACE Money Transfer has launched this grand and amazing campaign to dole out huge rewards to its customers.
So, do not waste a moment and participate now.
The above information does not constitute any form of advice or recommendation by London Loves Business and is not intended to be relied upon by users in making (or refraining from making) any finance decisions. Appropriate independent advice should be obtained before making any such decision. London Loves Business bears no responsibility for any gains or losses.