London faces a major problem that hardly anyone is talking about.
It is a threat to economic growth that you can't see, and few think about until they encounter it – by which time it's too late. But it is holding back business growth, and it is damaging this city's national and international competitiveness.
The problem is poor broadband.
Central London's internet speeds are so sluggish that a guest at one of our recent roundtables estimated that his company's productivity is 20% lower than it would be if speeds were quicker. He's even had to let staff work from home, where they can access faster broadband, just to keep up.
We at LondonlovesBusiness.com knew London's entrepreneurial companies could grow faster if their access to key tech infrastructure and resources was improved. We wanted to take action on figuring out what their biggest tech-based obstacles to growth are, and how those obstacles could be overcome.
So we brought together a group of fast-growth SME founders and directors, tech experts and policymakers, for a morning at Claridge's, to discuss how London's entrepreneurialism could be accelerated through technology.
This is what they told us…
Our thanks to wireless broadband provider Relish for supporting this roundtable, and to all our guests for their time and thoughts (full guest list below).
The big broadband problem in London
Our group's conversation overwhelmingly focused on central London's abysmal internet speeds, and how they were hindering productivity and growth.
"London has among the slowest broadband speeds you can find, which is completely unacceptable," said Mark Boleat, chairman of the Policy and Resources Committee at the City of London Corporation. "Even Tech City has slow broadband!"
Paul Dolman-Darrall, chairman and founder of online gameshow developer Gamevy, said that broadband access can be so bad in London that some start-ups wonder why they even chose this city as their base. "In the 18 to 24 months it'll take to get better broadband in a part of London, many start-ups will have died."
Thomas Davies, CIO at Seedrs, pointed out that slow broadband is a major threat to the growth of one of our superstar sectors. "The UK is around three years ahead of the US in fintech [financial technology] regulation, but our technology infrastructure is the biggest threat to the growth of fintech."
But "high-speed internet is essential for all businesses, not just tech businesses," as one of our guests noted. Paul of Gamevy believes that broadband and electricity are the most important business utilities. Without those, "there is a real loss in productivity – more so than losing water".
New premises, big problem
Yet many companies just assume they will be able to access decent broadband in London when they choose office premises – then find it "crazy" how difficult that is, as one guest put it.
Several of our guests talked about how they had moved into new offices without checking broadband speeds, and how much of an issue their slow broadband had subsequently become.
Even for those who did consider broadband speeds when looking at premises, the competitiveness of securing commercial office space in London made it hard to prioritise broadband speeds. Most businesses have to simply settle with finding the right space.
Indifferent landlords
That obviously means that landlords aren't as engaged with the issue of broadband access in their buildings as they might be. If you're on a three-year lease, a landlord doesn't have much incentive to install better broadband.
Nicholas James, CEO of wireless broadband provider Relish, pointed out that many London landlords are based overseas, making it even harder for tenants to get them to act.
Prohibitive costs and long delays
Getting reliable internet access can be enormously expensive and timely. Leased lines, usually provided by BT, can cost around £500 per month, on top of significant installation fees. These costs can be a great burden for SMEs. Several guests said they had also had to wait weeks or even months for installation.
Underlying issues
City of London Corporation policy chairman Mark Boleat highlighted the "massive difficulty" of digging up streets in London. There is always a conflict for those governing London between businesses that need constant road access and those that need to carry out roadworks.
London is falling behind on broadband speeds as there is so much resistance to digging up roads to lay better fibre cables, he said.
From our partners…
Alternative connectivity technologies may be the answer. Relish, a new communication provider that launched this summer, is addressing this problem by delivering fast broadband, using 4G technology. With their own 4G LTE network Relish can provide start-ups and small businesses with broadband at speeds of up to 50Mbps and even higher bandwidth services for larger businesses.
Other cities are speeding ahead of London
Slow broadband is damaging London's competitiveness. A few of our guests knew companies expanding in Bristol or Manchester, or even Portugal and eastern Europe, instead of opening a new office in London, because better broadband speeds are more accessible in those places.
Nicholas from Relish pointed out that it tends to be quicker and cheaper to get other UK cities to invest in faster broadband than London. Also, landlords elsewhere in the UK tend to act faster on broadband because they live locally, unlike many London landlords.
Four great ideas for improving London's broadband
So what can be done? Here's what our guests suggested…
1. Buildings should be publicly rated for broadband speed
Nicholas from Relish previously worked in Hong Kong. He said that all buildings there were rated for broadband speed, and those ratings were listed on all property rental listings, encouraging landlords to install better broadband. The government could act on making these ratings happen.
James Chappell, CTO of cyber security company Digital Shadows, suggested there could even be profit in the idea of rating buildings – a start-up along the lines of "RateMyBroadband.com" (although that is just a fictional website name!).
2. Businesses should get two paths for internet
Nicholas also talked about the need for "digital layers" – the idea that every office should have two layers of broadband, both wired and wireless. That way, if one drops out or slows down, the other is there as back-up. "Resilience is crucial, so every business needs two paths for internet going in," he explained.
3. Landlords must be better engaged
Even if just one business in a building is lobbying the landlord to install better broadband, landlords should realise that will benefit all their tenants. They should also be made more aware of how attractive fast broadband could b
e for prospective tenants. This action can come from local and national government, and from business tenants.
4. Businesses must come together on this issue
Rural communities have been successful in working together to get better broadband in their area. Why isn't the same thing happening among business communities in London? Our group suggested that businesses must work together to campaign for better broadband.
James from Digital Shadows suggested that businesses based near to each other could also group-buy broadband access to bring costs down.
The other tech problems damaging growth…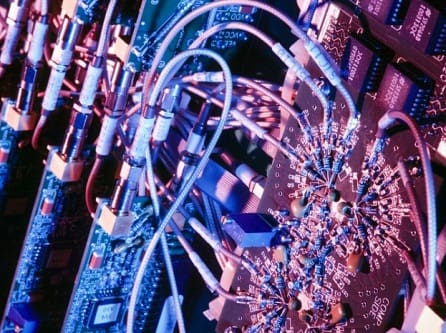 The knowledge gap
Businesses outside the tech industry said they faced a knowledge gap that could be limiting their growth. If you're not a technology expert, how can you know which technology-focused roles might accelerate your business' growth, or which updates to your IT infrastructure could have a dramatic impact on your bottom line?
A shortage of tech talent
As well as not always knowing what role to recruit for, London businesses often face difficulties in recruiting tech talent.
Toby Babb, founder and MD of fintech recruitment specialist Harrington Starr, said he'd been seeing more and more London companies outsourcing tech projects overseas – a "big worry" for London, which is obviously missing out on local sales as a result. "We need to be investing in people here, and looking at education, so London has talent feeding into the tech industry in years to come," he suggested.
Tom from Seedrs said that off-shoring talent was always a compromise. Although it brings costs down, it makes projects "much harder to manage – especially when you've got no internet for Skype".
Our guests talked about the pros of recruiting tech talent from the EU, but many voiced concerns over visa issues, which were stopping them from recruiting talent they need from outside the EU – and so hampering growth.
So what to do?
Boleat said businesses should contact their MPs to stress to them how important it is that they can recruit the talent they need from outside the EU. Government must be made to realise that London businesses need high-skilled immigrants to help grow their businesses.
With thanks again to Relish for their support, and to all our guests:
Adrian Tripp, chief executive, Key20 Media Limited
Colm Sheehy, senior economist, Centre for Economics and Business Research
James Chappell, CTO, Digital Shadows
Mark Boleat, chairman, Policy and Resources Committee, City of London Corporation
Munir Samji, chairman, Blitz GES
Nicholas James, CEO, Relish
Paul Dolman-Darrall, chairman and founder, Gamevy
Rob Walker, CEO, BIE Group
Thomas Davies, CIO, Seedrs
Toby Babb, founder and MD, Harrington Starr
Tony Goodwin, CEO, Antal International
Will Harnden, CMO, Relish
From our partners…
Relish, a new communication provider that launched this summer, delivers fast broadband using 4G technology. With their own 4G LTE network Relish can provide start-ups and small businesses with broadband at speeds of up to 50Mbps and even higher bandwidth services for larger businesses.